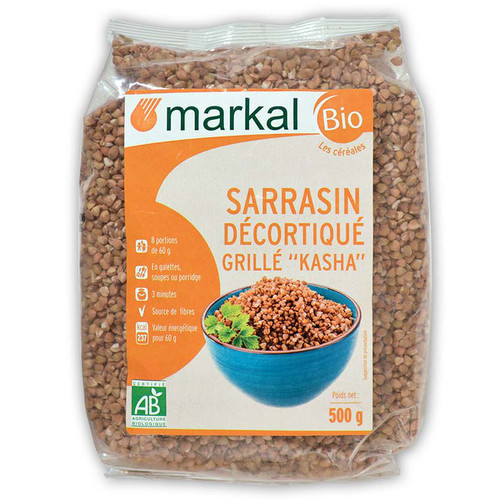 Markal
1
Buckwheat Kasha - organic
---
Fabriquant: Markal
Contenu: 500.0
G
Référence: MK120
---
Win 37 beez by buying this product
Buckwheat "Kasha" or "Kacha" are roasted husked buckwheat grains, sometimes crushed but here entire. These small reddish-brown grains have a pronounced savour, require only a very short cookingtime and can be used as buckwheat grains or to get Sobacha.
Kasha matches for example quite well with leguminous or meat, game, force-meat, also provides a nice blend of flavours when cooked with rice (it has to be add more towards the end of cooking if it is not-precooked brown rice).
Roasted husked buckwheat can also be used to prepare Sobacha, a traditional health drink in Japan which can be drunk at any time of day, warm or cool. Sobacha is rich in minerals, fibres and rutin (a flavonoid which is good for example for blood circulation) and reputed anti-hypertension and anti-cholesterol
Ingredients
roasted hulled Buckwheat* * from certified organic agriculture
Origin
Chine or EU, transformation Holland
Production
- allergen prevention measures implemented by the company MARKAL:
* the packaging schedule is defined based on allergens
* complete cleaning after each product
* additional cleaning at the end of workingshifts by a specialized company
Characteristics
Nutrional values per 100g
energy: 1671kJ / 395kcal
fat: 4,4g of which saturates: 0,7g
carbohydrates: 73,3g of which sugars: 3g
fibre: 4,5g
protein: 13,3g
salt: 0,002g
Recommendations for use
Wash the buckwheat, cover it with cold water and cook 20 to 30 minutes on low heat.
Precautions for use
- Possible traces of gluten, nuts, mustard, sesame and soy.
- Keep cool (temperature below 20 ° C) and protected from light, in well closed packing.
This is a preview of the recently viewed products by the user.
Once the user has seen at least one product this snippet will be visible.
Recently viewed Products