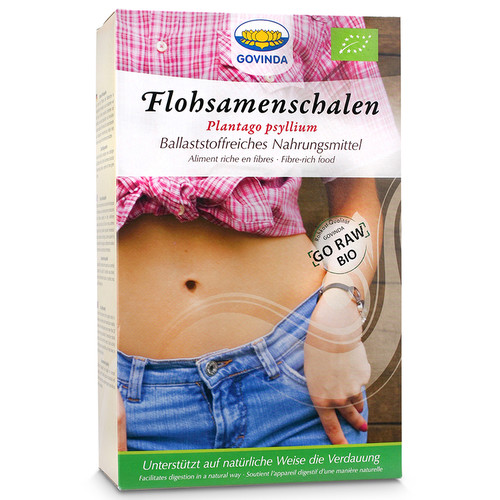 Govinda
1
Psyllium (Psylli flavum Testa) husks - organic
---
Manufacturer : Govinda
Content: 250.0
G
Reference: GO004

---
Win 68 beez by buying this product
Psyllium (or Desert Indianwheat, Ispaghula, Isabgol...), in this case blond Psyllium, is rich in non-aggressive and effective soluble (35%) and insoluble (65%) fibres and has been approved as a remedy against high cholesterol, constipation, irritable bowel syndrome and diarrhea and as having a contribution to risk reduction of cardiovascular diseases.
Psyllium husks, which contain the fibres, are not absorbed by the body and their structuring and forming effect on the stool is purely mechanical. Their soluble fibres are part of the prebiotics. These can play an important role in the prevention and treatment of inflammatory diseases of the intestine by acting on the intestinal bacterial flora to restore a healthy intestinal balance.
Psyllium husks or seeds are well tolerated, have no bad adverse effects and no inconvenience to a permanent throughout life is known. Their (very soft) action can take some days to appear. According to experts the medicinal properties of psyllium are due to its mucilage (soluble fibres that form gels in contact with water) and most psylliums, black or white, are rich in mucilage.
Also very rich in fibres: dried figs , prunes , psyllium , Golden linseed - organic , chiaseeds , coconut meal , tigernut flour , cocoa beans or cocoa powder ,....
Latin name
Plantago Ovata (Testa), subg. Psyllium sect. Albicans (yn. Plantago fastigiata, Plantago insularis, Plantago ispaghula
Characteristics
Average data for 100g
- energy: 85kJ / 20kcal
- protein: 1,93g
- carbohydrates: 1,7g of which less than 0,2 g sugar
- fat: 0,62g of which 0,07 saturated
- salt: 0,06g
- Fibres: 85,1g
Properties
- Psyllium husks or seeds soften the consistency of stool and thus facilitate its passage.
- They do not attack the intestinal mucosa but act lubricating.
- Their laxative action is mecanical (ballast of the husks) without assimilation of the husks by the body.
- In case of constipation or diarrhea psyllium husks or seeds give stool the optimum, soft and malleable, consistency and restore normal function of the colon.
- For Irritable Bowel psyllium husks or seeds do not seem to directly relieve the pain associated with this syndrome, but they improve and regulate effectively the digestive functions of the patients.
- In chronic fungal intestinal infections, candidosis ... psyllium husks or seeds absorb the produced toxins (these can cause allergic reactions), soothe inflamed tissues and promote the development of beneficial bacteria in the colon.
- Psyllium husks or seeds lower the glycemic index of a meal by changing the structure, texture and viscosity of food in the intestine.
- They lower the total and LDL cholesterol, risks of cardiovascular disease.
- They generate a feeling of fullness which can help reduce food intake and consequently improve weight control.
- By theri muliple actions thex contribute to reduce risks of cardiovascular disease.
Traditional use
- Constipation (also in Parkinson's disease), intestinal laziness, semi-liquid stools, diarrhea, dysentery
- Diverticulosis / diverticulitis
- Irritable bowel
- Hemorrhoids, anal fissures (it facilitates the passage)
- Hemorrhagic rectocolitis (to maintain remission)
- Type 2 diabetes (non-insulin-dependent)
- High cholesterol (hypercholesterolemia), triglyceridemia
- Atherosclerosis and all connected cardiovascular diseases
- Risk of cardiovascular disease
- Overweight
- Fungal infections (mycoses), candidiasis, intestinal parasites (roundworms) ... etc..
Recommendations for use
- It is better to integrate psylliumhusks gradually in the diet (they can be used as a thickener) and it is necessary to consume enough fluids with them. Taken in between the meals the husks should mixed with water or juice and the thickened mixture drunk after a few minutes. Required fluid quantity: at least 5 to 10 times the husksvolume or 30g water per gram ingested psylliumhusks).
Although there is no recommended dosage recognized, generally for an adult as dietary supplement a daily dose of 2.5 to 8 g husks or 4 to 13g
Psyllium seeds (plantago psyllium) - organic
are advised. For a therapeutic dosage aiming medical ailments maximum doses of 13g husks or 8g seeds and remaining under a total of 30g husks and 40g seeds a day are advised.
- For Irritable Bowel optimal doses are between 20g and 30g psylliumhusks a day.
- To normalize blood lipid levels and lower blood sugar it seems preferable to consume the psylliumhusks at mealtime, mixed with food, rather than in between the meals.
- To reduce the pain and bleeding associated with hemorrhoids take 3 times a day 7g psylliumhusks.
- To reduce blood pressure (hypertensive patients): 10g of psylliumhusks a day.
Precautions for use
- Store in a cool and dry place, in a closed packing.
- Possible side effects: bloating, flatulence and cramps. These annoyances are limited by integrating the seeds or husks gradually in the diet.
- Above all think to drink enough (pro psylliumspoon 1/4 l liquid) : if the amount of water ingested with psyllium seeds or husks is insufficient, there is a risk of obstruction of the digestive tract by a compact mass of stool is to be feared.
- A simultaneous intake of fibres and medicines may reduce the absorption of the latter, so observe a delay of minimum 3 hours between both.
- For diabetics: Psyllium slows the absorption of carbohydrates, which will affect insulin levels. So take psyllium only under control.
- Psyllium should not be taken in case of intestinal obstruction, difficulty of swallowing, acute inflammation or narrowing in the digestive tract.
This is a preview of the recently viewed products by the user.
Once the user has seen at least one product this snippet will be visible.
Recently viewed Products