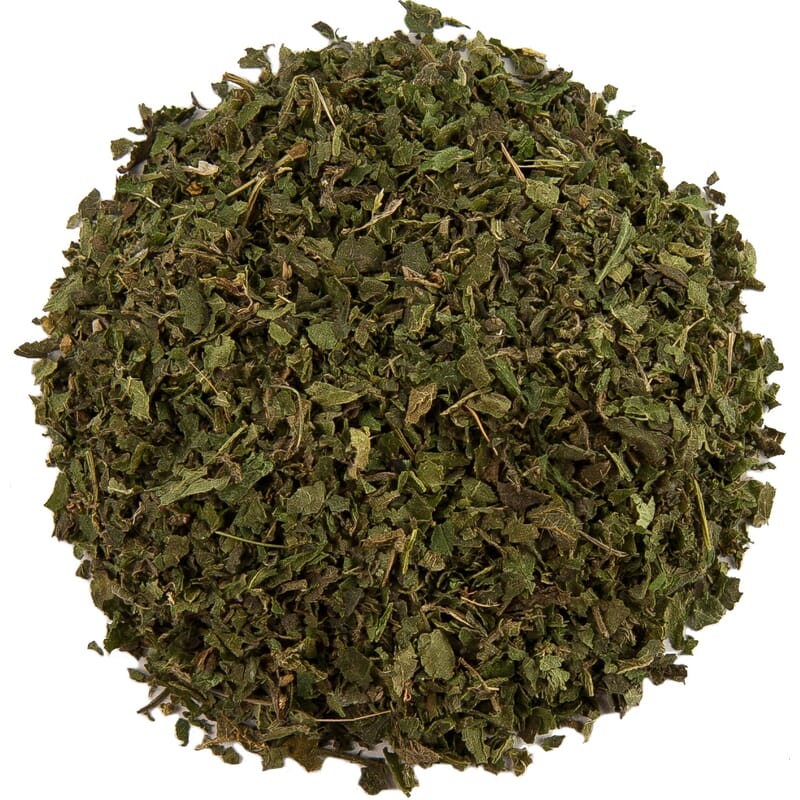 Santi-shop
1
Nettle leaves, cut - organic
---
Fabriquant: Santi-shop
Contenu: 500.0
G
Référence: SP019
---
Win 90 beez by buying this product
Nettle leaves are used successfully in many health concerns.
The leaves or aerial parts of nettles are used as herbal tea for kidney, bladder and urinary tract in cases of inflammation, to treat or prevent the formation of stones of kidneys, urinary tract or hepatobiliary system. Kidney diseases are often accompanied by headaches, some migraines regress or disappear with a nettle cure.
It is an herbal tea that facilitates the stool, has a diuretic action useful against dropsy, has a beneficial effect on the pancreas and thus lowers blood sugar.
As it is remineralizing and has a purifying and reconstructive action on blood, nettle tea is often useful in anaemia and blood diseases, relieves in cases of gout and rheumatism, symptoms of allergic rhinitis (hay fever, various pollen allergies...), skindiseases (which usually have an internal cause) as eczema, fungal infections. As nettle tea stimulates blood flow, it is also useful to help relieve arthritic and rheumatic pains, combat muscles and limbs numbness, overcome seasonal fatigue.
This tea is drunk as a cure against intestinal irritation, cramps and ulcers of the stomach, glairs of stomach and respiratory tract, and lung diseases. It is an effective aid against viral diseases and for the elimination of bacteria, and it reduces the disposition to colds.
Nettle leaves are also delicious as soup or added to various vegetables (for the dried plant provide enough moisture to rehydrate it). The stinging power of nettle hair is inactivated by cooking and drying.
However it is the nettle root that is used to relieve urinary problems related to benign prostatic hyperplasia (phases I and II), a therapy that has appeared in the early 1980s and is often a solution for those who find no or only little aid with Willowherb as herbal tea or as Epilobium parviflorum tincture - Willow herb - organic .
Latin name
Urtica dioica
Ingredients
Nettle* * from certified organic agriculture
Origin
Poland
Production
Despite the care taken during the production process to mechanically remove foreign material, there may still remain some. It is therefore recommended to make a visual control, and if necessary a sorting, before any use.
No refund request in relation with foreign material will be accepted.
Traditional use
- Inflammation of the urinary tract
- Stones of kidneys, urinary tract, hepatobiliary system
- Blood diseases, hypertension
- Gout
- Rheumatic or arthritic pain, or pain associated with sciatica
- Allergic rhinitis
- Lung diseases, diseases of the respiratory tract
- Migraines
- Constipation, intestinal irritation
- Ulcers, cramps, excrescences and glairs of the stomach
- Viral and bacterial diseases
- Dermatose, skin diseases with internal origin (eczema, mycosis, urticaria ...), depuration
Recommendations for use
Three times a day, pour 150 ml of boiling water on 2 g to 5 g nettles in a cup, leave to infuse for 10 to 15 minutes, pour through a strainer and drink. When the therapeutic goal is to irrigate the urinary tract, it is important to drink plenty of water.
This is a preview of the recently viewed products by the user.
Once the user has seen at least one product this snippet will be visible.
Recently viewed Products