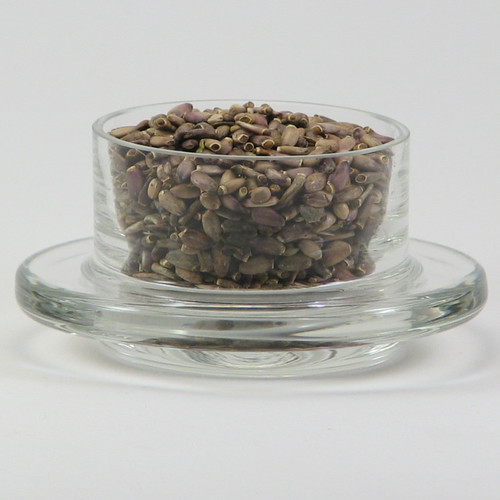 Santi-shop
1
Milk Thistle seeds - organic
---
Fabriquant: Santi-shop
Contenu: 1.0
KG
Référence: SP012
---
Win 155 beez by buying this product
Milk thistle dried seeds or grains, parta of the plant that are the richest in its medicinal most active substance silymarin, fine as tee or,better, freshly ground in raw vegetables, smoothies, muesli.
Milk thistle is traditionally used in cases of hepatic (cirrhosis, jaundice and hepatitis) and biliary disorders. It is the silymarin, mainly concentrated in the seeds, which is known to have a very powerful hepatoprotective action (silymarin helps reduce penetration of toxic substances in the liver cells). Milk thistle is used in herbal medicine for its digestive, antiviral, anti-toxic and anti-inflammatory properties and its hypoglycaemic effect. It cleans and stimulates the body after a food poisoning, alcohol excess, etc.
Silybum marianum has other common names including cardus marianus, milk thistle, blessed milk thistle, Marian Thistle, Mary Thistle, Saint Mary's Thistle, Mediterranean milk thistle, variegated thistle and Scotch thistle.
Latin name
Silybum marianum
Ingredients
Sylibum marianum* * from certified organic agriculture
Origin
Turkey
Production
After harvest the seeds are left for 8 hours in a dryer at 60 ° C.
Despite the care taken during the production process to mechanically remove foreign material, there may still remain some. It is therefore recommended to make a visual control, and if necessary a sorting, before any use.
No refund request in relation with foreign material will be accepted.
Properties
According to some studies milk thistle extract is better absorbed when diluted in a fatty substance. As thistles seeds contain fat it is sometimes advised to consume the seeds whole (soak or suck them before chewing them or first grind them to powder). An infusion of the seeds is beneficial for digestion but as the active compounds of thistle are sparingly soluble in water they are less present in the infusion.
Traditional use
Liver problems: liver failure, hepatitis, cirrhosis.
Alcoholism.
Gallstones.
Dyspepsia, stomach ache.
Recommendations for use
According to the disease(s) one is trying to treat, dried plants are to be used more or less frequently in one or another preparation form(s): infusion or decoction, with or without pre-soaking, tincture, food supplement. Every plant and / or disease has its specificity, and a person often suffers from several diseases. It is the whole picture one should have in mind when looking for a plant and its preparation form. We therefore advise you to follow the guidance of your therapist or to look into books and on internet.
Infusion: for flowers, leaves, berries and seeds, infuse 3 to 5 grams for about 10 minutes in half litre of water.
Decoction: for roots, 5 to 8 grams per half litre of water, boil for 20 to 30 minutes.
Maceration (external use): 5 to 8 g of plant per half litre of water, boil for 15 minutes. Leave to settle for 4 to 5 hours in the same water and then filter.
Website to guide you through the selection of medicinal plants: Plants for a Future
Precautions for use
Store away from heat and moisture.
This is a preview of the recently viewed products by the user.
Once the user has seen at least one product this snippet will be visible.
Recently viewed Products