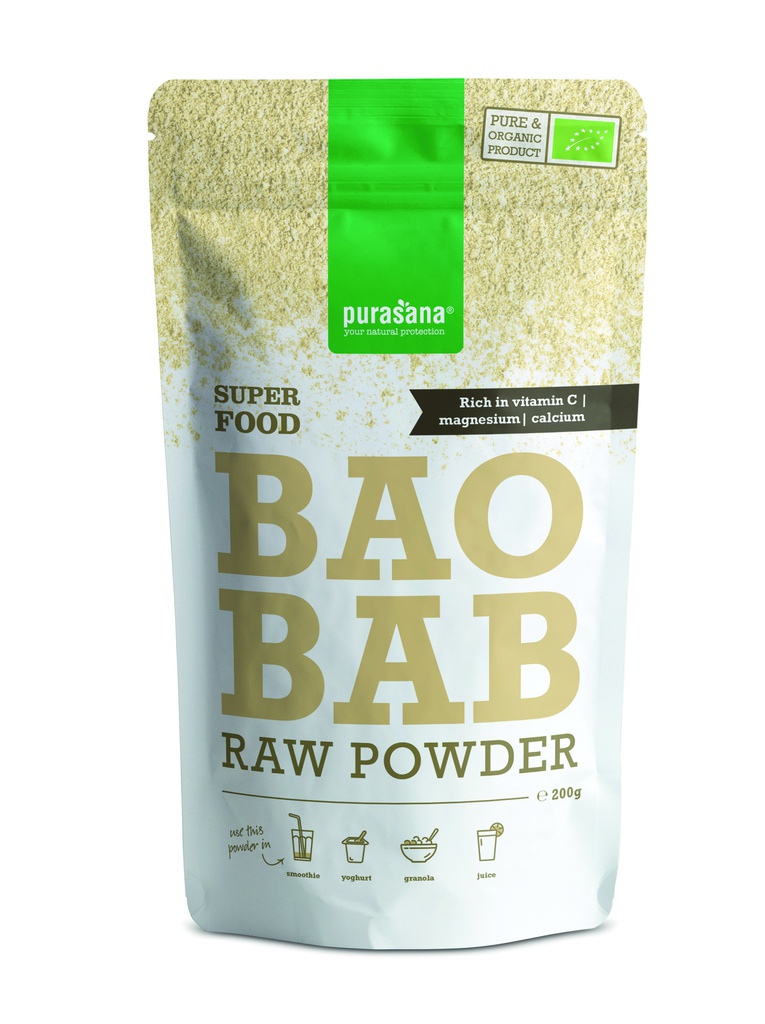 Baobab powder - organic
1
---
Contenu: 200.0
G
Référence: PU002
---
Win 100 beez by buying this product
Raw quality Baobab powder is the fruit pulp of the Baobabfruit reduced to powder and having never undergone any treatment above 40 °C. It s is a slightly sour powder that is very interesting on nutritional level. Because it is rich in dietary fibres (about 44%), half of which are soluble it has a prebiotic and digestion, intestinal comfort and intestinal transit regulating action. Traditionally it is used as anti diarrhoeal and in general to regain fitness, to improve vitality and strength.
"Raw quality" food is treated below a maximum of 42°C, because enzymes and healthy nutriments (e.g. a large part of vitamins) are destroyed beyond this temperature.
Baobab powder enables by its fibres a rebalancing of the intestinal flora and the return to optimal functioning of the transit. It also has an anti-inflammatory action, provides antioxidants, is rich in vitamin C, potassium, calcium, magnesium and iron. In addition it contains eg pectin, useful against constipation and diarrhea and contributing to the attenuation of the glycaemia peak (rate of blood sugar peak) after a meal and to the maintenance of normal blood cholesterol levels, beat-amyrine palmitate, with sedative and antidepressant properties, ursolic acid (malol) which in tests on mice allowed their muscles to grow and their body fat to reduce,and beta-sitosterol, a compound of the family of phytosterols which competes with the cholesterol in the intestine and decreases its passage in blood.
The Baobab pulp is obtained by slightly opening the hard shell of the baobabfruit and removing its naturally dry pulp. It has a slightly sour taste and as powder can be diluted in water, juice, smoothies, vegetable drinks, yoghurts, stewed fruit, added to various preparations or simply sprinkled on food. Mixed with water Baobab powder gives a refreshing drink called bouye or bouye juice.
Latin name
Adansonia Digitata L.
Ingredients
Raw fruit pulp of Baobab* * from certified organic agriculture
Origin
Senegal
Characteristics
Average nutritional data per 100g
- energy: 1064kJ /266 kcal
- protein: 2,2g
- carbohydrates: 42,3 g of which 27,3 g suggar
- fat: 0,1g
- fibres: 43,8g
- salt: 0,00025 g (of natural sodium)
- vitamin C: 300mg (375% of the reference intake)
- potassium: 1800 g (90% of the reference intake)
- calcium: 345 g (43.13% of the reference intake)
- phosphor: 51 g
- magnesium: 174 g (46.4% of the reference intake)
- iron: 7 mg (50% of the reference intake)
Precautions for use
Baobab pulp powder consumption presents no toxicological risk however seems to have a laxative effect by overdosing and digestive discomfort can appear when using more than 20 g per day.
This is a preview of the recently viewed products by the user.
Once the user has seen at least one product this snippet will be visible.
Recently viewed Products