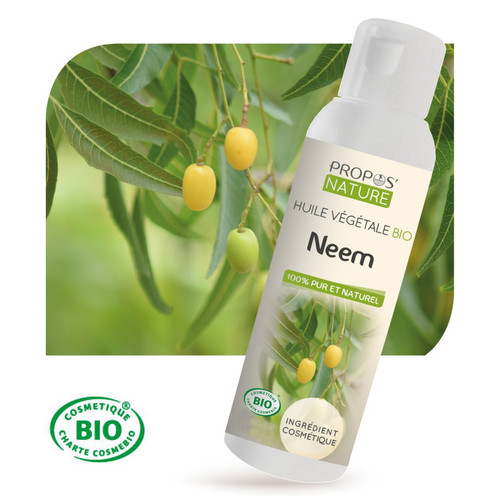 Propos'Nature
1
Neem oil - organic
---
Fabriquant: Propos'Nature
Contenu: 100.0
ML
Référence: PN003
---
Win 70 beez by buying this product
Neem oil comes from the seeds of the Neem tree, one of the most important and widely used Ayurvedic plants in India. It has anti-bacterial, anti-fungal, insect repellent, emollient and nourishing properties and penetrates easily but is best associated with essential oils to soften its particular roasted smell. For an impure skin the essential oils of tea tree, laurel or palmarosa can be mixed, to strengthen its antifungal action those of tea tree, geranium or palmarosa are suitable.
The Neem tree is also called neem, nimtree or Indian lilac.
Latin name
Azadirachta indica, Syn.: Melia azadirachta L., Antelaea azadirachta (L.) Adelb.
Origin
India
Production
First cold pressing by grinding and pressing the seeds
Properties
anti-bacterial, anti-fungal
insect repellent
penetrant
emollient, nourishing and regenerating
anti-inflammatory
Traditional use
Abscess, acne, boils, eczema, scabies, psoriasis, infection or skin dryness
dandruff scalp
fungi and parasites (skin and nails), cutaneous mycosis, insect sting or bite
parasitized skin or hair (or animal hair) (ticks, mosquitoes, lice, fleas)
Recommendations for use
Apply to affected areas and massage until complete penetration of the oil
Anti-pimples: 2 ml of tea tree essential oil in 8 ml neem oil
Mosquito repellent (apply before each risky outing): 60 ml neem oil, 38 ml jojoba oil, 2 ml exotic verbena essential oil or Geranium rosat
Anti-lice mask: 95 ml of neem oil and 5 ml of true lavender essential oil (apply all over the hair, cover and leave to act (ideally a whole night) before making a shampoo and use a fine comb to remove all nits). This mask has to be repeated.
Precautions for use
Neem oil can be partly solid at room temperature. If necessary pass the bottle under a stream of warm water to liquefy the oil.
Neem oil is powerful, can be irritating and should be used preferably diluted in another vegetable oil.
Oral use is not recommended (potentially toxic for kidneys, liver, heart) except as part of a strict medical follow-up on the recommendations of a professional. It is strictly forbidden for pregnant women, nursing mothers and children.
Store away from air, light and heat.
This is a preview of the recently viewed products by the user.
Once the user has seen at least one product this snippet will be visible.
Recently viewed Products