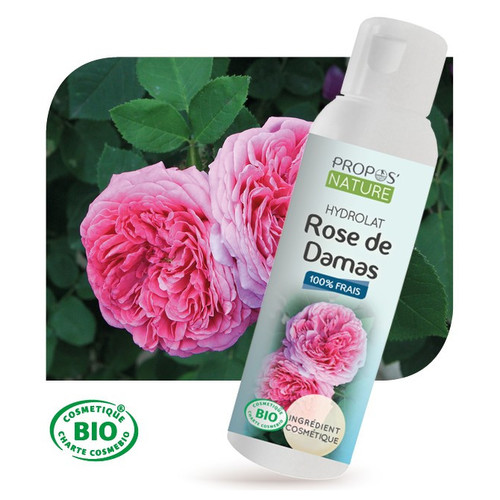 Propos'Nature
1
Rose hydrosol - organic
---
Fabriquant: Propos'Nature
Contenu: 100.0
ML
Référence: PN002
---
Win 59 beez by buying this product
Rose hydrosol, or Rose water, is the hydrolat par excellence, giving a boost of radiance to atonic skin. Astringent and anti-wrinkle, stimulating dull skin, it also contains anti-allergic substances, regulates circulation and helps combat rosacea and redness.
Soothing or strengthening, Rose hydrosol harmonises the senses.
Empty 100ml and 250ml alu-resin bottles with spray pump and to 100ml, 200ml and 250ml aluminum-resin bottles adaptable aluminium spray pump are practical accessories to prepare synergies and to spray alcoholic or aqueous preparations.
Latin name
Rosa damascena
INCI
Rosa damascena flower water* (99,5%), 0.5% : Benzyl alcohol, Dehydroacetic acid, aqua
Ingredients
Rose hydrosol* (99,5%), preservative: Benzyl alcohol, Dehydroacetic acid, aqua * ingredients from certified organic agricultur
Origin
Bulgary
Production
A hydrolate is a by-product of the steam distillation of (parts of) aromatic plants and is formed by the condensation during the cooling of the water vapour used for the distillation and enriched by it.
Propos'Nature offers a 100% fresh, microfiltered (0.2 micron) hydrosol which is microbiologically compliant, without any chemical treatment and of cosmetic quality. The minimum extraction ratio is 200g of flowers per liter of hydrosol, which confers an important concentration of aromatic molecules.
Characteristics
Hydrolates contain the water-soluble substances of the aromatic plant, possibly also traces of essential oils. They generally have an action similar to that of the essential oil of the original plant, but work more smoothly and can also, depending on the differences in contained substances, have a different action, sometimes even stronger. Thus, for example, about 50% of phenylethanol analgesic and 2% to 3% essential oil are found in rose hydrosol.
Properties
moisturizing, refreshing, analgesic to the skin
astringent, anti-wrinkle, toning, regulates cutaneous blood circulation, helps to counter couperose and redness
brings relief and strengthens (for example, during birth, in "heartbreak" or grief)
Traditional use
Digestion
cold
Pregnancy and Breastfeeding
Insects
Bladder and urinary tract
Teeth and jaws
Baby care
Recommendations for use
A hydrolate is generally used as pure tonic lotion adapted to each type of skin. For roser hydrosol put or spray on a cotton pad and spread over clean dry skin. To refresh and care during the day spray several times sparingly on the skin. Can also be applied on make-up.
Internal use can also be considered for the most part: a hydrolate or a mixture of two to three hydrolats is then used. The recommended dose is two to three tablespoons in one liter of water to drink during the day. Occasionally, you can add a teaspoonful of hydrosol to a glass of water.
Aged hydrosols can be used in the bath or against an invasion of ants in the garden.
Precautions for use
At the first cutaneous use of an essential oil or its hydrosol always make a test at the inner side of your elbow to make sure that they does not cause you any allergic reaction.
As hydrolates are not stable (very sensitive to microbial pollution) they can only be kept for a few months or even weeks. Store them in a cool place (in the refrigerator after opening) and use them in conditions of optimal hygiene. For diluted use do dilution only shortly before use. If change of appearance or smell, no longer use the hydrosol.
This is a preview of the recently viewed products by the user.
Once the user has seen at least one product this snippet will be visible.
Recently viewed Products