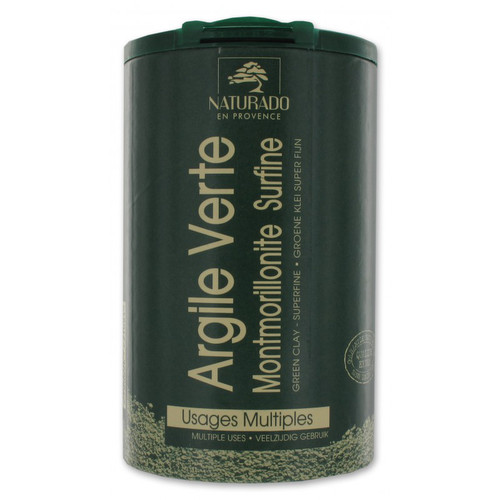 Naturado
1
Montmorillonite superfine green clay
---
Fabriquant: Naturado
Contenu: 300.0
G
Référence: NR001
---
Win 58 beez by buying this product
Naturado Green Montmorillonite clay is a superior quality clay, rich in for the body valuable minerals, more particularly magnesium, which is carefully selected and subjected to many controls. It is therefore ideal for healthcare applications. Its strong detoxifying and remineralizing action is due to its extraordinary richness in minerals and its strong absorption and adsorption power. It acts in symbiosis in particular with essences of plants or decoctions.
The superfine form is an ultra-fine powder (grains of approximately 77 microns microns) which lends itself particularly well to usage as beauty mask for the face, and, with caution, internally, as a treatment or a dietary supplement. Of course it can also be used for poultices, plasters, balneotherapy or hygiene (e.g. non-foaming "soap" or shampoo).
In paste form applied as clay facial mask green clay Montmorillonite is particularly suitable for oily skin however works wonders on all skin types thanks to its soothing, cleansing, toning and decongestant properties. As thus it brightens the complexion and gives the skin an incredible soft touch. Used regularly it has a wonderful rebalancing effect, absorbs excess sebum, gently cleanses, stimulates the immune system and gives the face a new tone. This paste is also ideal applied to oily hair.
Montmorillonite is also referred to as Bbentonite.
Ingredients
100% green Montmorillonite clay powder
Production
Naturado Montmorillonite clay is a clay from an open pit quarry in the Massif Central in France and has been selected for the exceptional quality of the environment and the volcanic origin of the site. It is guaranteed 100% natural origin, without any chemical and Gamma rays treatment, and was mechanically transformed to maintain its qualities.
Characteristics
100% natural.
No artificial preservatives.
No irradiation.
Not tested on animals.
N.B. As clay is a mineral it can not receive an "organic" label.
Properties
Natural source of minerals and trace elements.
Exceptional cation exchange capacity (making it a particularly renowned clay)
Recommendations for use
- Internal use: pour one half to one teaspoon of green montmorillonite clay into a glass of water. Mix with a wooden spoon and drink it all or drink only the clayish water after leaving the clay to settle to the bottom of the glass. Internal use is not harmless, see serious books or a therapist who will guide you.
- Preparation of clay paste: pour the required amount of green clay in a glass or earthen container. Cover with water (1 to 2 cm). Leave it to stand for 1 to 2 hours. Mix carefully with a wooden spoon until the paste gets creamy and smooth.
- Face mask: spread the clay paste in a thin layer (2 to 3 mm), leave on for 10 minutes. Do not allow the clay paste to dry. Rinse off with lukewarm water. Apply a moisturising
Crème/Fluide
.
- Hair mask: spread clay paste evenly over the scalp. Leave on for 10 to 15 minutes. Rinse, then, use your regular shampoo.
- For washing skin or hair (for medium hair) mix 3-6 tablespoons filled to the brim with clay paste in 6-12 tablespoons hot water to a thick liquid paste. Let swell the clay paste a few moments. Then spread the mixture on the moistened skin or in the wet hair and massage gently. Let it work for a short time and then rinse thoroughly with warm water. Finally, dry and care skin or hair as usual.
Huiles essentielles
, or for dry hair a few drops of
Huiles végétales
, can be added to the paste.
- Bath: dilute the 200g montmorillonite clay in the bath water. A few drops of essential oil may be added if desired. Relax for 20 minutes, then rinse with clear water. Your skin will feel wonderfully supple and soft. For dry skin use an hydrating
Crème/fluide
and/or
BAOBAB Leg Lotion - Demeter
.
Precautions for use
- Keep in a dry area.
- Keep away from freezing.
- Beware of clay dust which is always present even before opening.
This is a preview of the recently viewed products by the user.
Once the user has seen at least one product this snippet will be visible.
Recently viewed Products