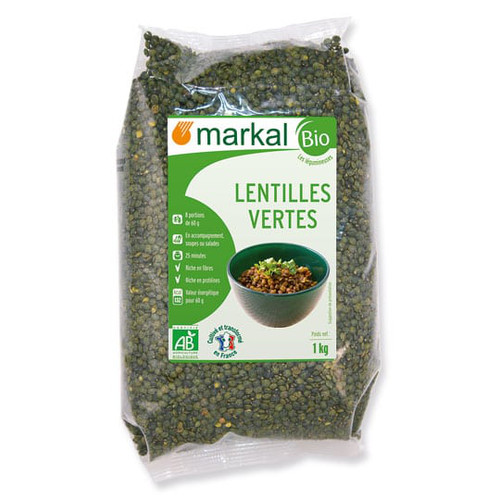 Markal
1
Green Lentils Anicia - organic
---
Fabriquant: Markal
Contenu: 1.0
KG
Référence: MK174
---
Win 66 beez by buying this product
Green lentils, the most widespread lentils in France, have a very dark green colour and this Anicia variety is very similar to that growing on groundsbenefiting from the AOC classification "Du Puy Lentils". Lentils are, with Mung Beans, loose food - organic and Azuki Beans, loose food - organic , the leguminous grains hat are best digested. Less rich in cellulose than the other, they cause little "winds". Lentils are also popular because of their shorter cookingtime and the less importance of presoak. They are among the oldest and most appreciated leguminous and their high protein content (about 25%) constitutes an important source of proteins in many communities, with furthermore an interesting intake of fibres and minerals (especially iron).
Like all dried Légumineuses grains, green lentils are rich in carbohydrates (in the form of starch), proteins, minerals (phosphorus potassium, magnesium, manganese, iron), fiber and vitamins (B1, B9, E) and poor in fat, cholesterol-free. They are "proteaginous" seeds which are consumed for their protein content but also for their multiple health properties.
Latin name
Lens culinaris, Anicia
Ingredients
green lentils Anicia* * from certified organic agriculture
Origin
France or Canada
Production
- allergen prevention measures implemented by the company MARKAL:
* the packaging schedule is defined based on allergens
* complete cleaning after each product
* additional cleaning at the end of workingshifts by a specialized company
Characteristics
Average data for 100g
- energy: 920 to 980kJ 200 to 240kcal
- protein: 23 to 28g
- carbohydrates: 27 to 30g
- fat: 1.4 to 2g
- fibres: 30 to 34 g
- total mineral substances: 2,2 to 2,6g
- Na : 2 to 5
The composition of the proteins of leguminous grains (except in the case of
Yellow soy beans, loose food - organic
) certain essential amino acids such as methionine, are found in small quantities, hence the need to combine leguminous with other protein sources such as
Céréales (Pseudo-)
(rich in methionine and low in lysine) or
Graines
,
Fruits à coque
, which have essential proteins complementing particularly well those of leguminous (poor in methionine and rich in lysine).
Properties
In leguminosae compounds which are both harmful and beneficial have been found. So their phytochemical compounds such as lectins and saponins may reduce the bioavailability of certain nutrients but the researchers claim that in a context (as in occident) where there is food abundance and diversity and where nutritional deficiency is rare, this effect has little impact on health. In more recent years in vitro and animal research has even associated consumption of these compounds with certain benefits such as a reduction of the growth of cancer cells and improved blood lipid profile.
Recommendations for use
- Lentils are usually not soaked before cooking, except blondes, which are tougher, have a thicker skin and are better soaked two hours in lukewarm water. But, like all leguminous grains, lentils benefit from being soaked for a few hours because soaking facilitates digestion and favours the assimilation of minerals by neutralizing part of their antinutrients. Then rinse the lentils, cover with about 2 times their volume of water (with or without spices) bring to a boil and simmer for 20 to 30 minutes on average depending on the desired consistency. Generally salt is only added at the end of cooking to prevent the lentils to harden.
- Lentils are to be associate with cereals or nuts for a perfect nutritional protein balance (to compensate for the low methionine content of lentils).
- Lentil flour can be used to thicken soups and sauces or to enrich breads and pastries. The pappadums, dry patties/pancakes served at the beginning of Indian meals, are usually prepared with lentil flour.
- Green lentils can be sprouted (about 3 days) and added, raw or cooked, to various dishes.
Precautions for use
- If you're not used to eating foods from the legume family, introduce them slowly.
- Store under fresh and dry conditions in a closed packaging.
- May contain traces of gluten, sesame, soybean, mustard, nuts.
This is a preview of the recently viewed products by the user.
Once the user has seen at least one product this snippet will be visible.
Recently viewed Products