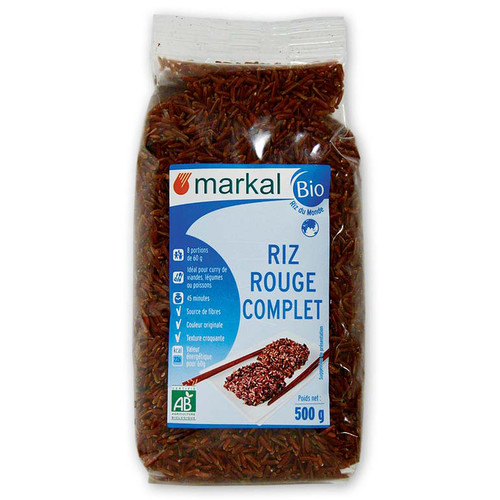 Markal
1
Red Rice, whole - organic
---
Fabriquant: Markal
Contenu: 500.0
G
Référence: MK137
---
Win 34 beez by buying this product
Red rice comes from a spontaneous cross between cultivated rice and wild rice (however not the "wild rice" (zizania palustris) which is also called Canada rice, Indian rice or water oats). It owes its colour to the clay soils on which it grows and is characterized by a subtle flavour and a distinctive texture. As a wholegrain rice this whole, fine long grain red rice requires a cooking time of, according to taste, about 30 to 45 minutes.
Organic whole rice is easily digestible and important for our health. Its grain, washed, hulled, but not polished, has retained all its vitamins, minerals, proteins, micronutrients and fibers. Research has updated its anti-cancer, anti-diabetic and cardiovascular disease protecting potential. It is interesting for diabetics and sportsmen because it contains soluble fibers which slow the increase in blood sugar by releasing glucose gradually. Its cooking water can be helpful in relieving diarrhoea and as it contains no gluten, it is also a grain of choice for people with celiac disease.
Latin name
Oryza sativa
Ingredients
long-, whole-grain red rice (Oryza sativa)* * from certified organic agriculture
Origin
Thailand
Production
Allergen prevention measures implemented by the company MARKAL:
the packaging schedule is defined based on allergens
complete cleaning after each product
additional cleaning at the end of workingshifts by a specialized company
Characteristics
Nutrional values per 100g
energy: 1592kJ / 376kcal
fat: 3g of which saturates: 0,86g
carbohydrates: 75g of which sugars: 0,1g
fibre: 4,5g
protein: 10g
salt: 0,18g
Recommendations for use
Red rice is attractive as garnish, in salads, risotto and all rice dishes that support a touch of color. Bring to boil 1 cup of washed rice with 2 cups of slightly salty water or broth. Cook over low heat on a flame diffuser for about 40 minutes.
Precautions for use
Store protected from light in a cool and dry place, in a tightly closed packing.
Allergens that may be present on the production line and be a risk of cross contamination: gluten, hazelnuts, sesame and soybeans,
This is a preview of the recently viewed products by the user.
Once the user has seen at least one product this snippet will be visible.
Recently viewed Products