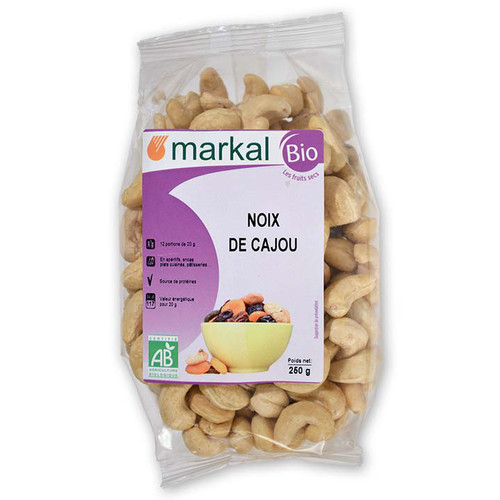 Markal
1
Cashew Nuts - organic
---
Manufacturer : Markal
Content: 250.0
G
Reference: MK039


---
Win 68 beez by buying this product
Cashews or Cashew nuts, here of raw food quality, have a very high nutritional value and, like all nuts, contains many important vitamins and minerals. As they are rich in iron, copper, zinc, vitamins, proteins and beneficial fatty acids, cashew nuts stimulate the functions of the organism and provide a highly energetic food supplement.
Several epidemiological and clinical studies have found that regular consumption (about 30g per week) of husk fruits, peanuts and oilseeds has a cholesterol-lowering effect, reduces the risk of cardiovascular disease, type 2 diabetes, gallstones in men, gall bladder ablation and colon cancer in women.
Cahsewnuts may be eaten alone as a snack or in hot or cold meals.
Latin name
Anacardium occidentale
Ingredients
Cashew nut* * from certified organic agriculture Possible traces of gluten, mustard, sesam, soy and nuts.
Origin
Viet Nam
Production
Raw quality Produkt. "Raw quality" food is treated below a maximum of 45°C, because enzymes and healthy nutriments (e.g. a large part of vitamins) are destroyed beyond this temperature.
- Allergen prevention measures implemented by the company MARKAL:
* the packaging schedule is defined based on allergens
* complete cleaning after each product
* additional cleaning at the end of workingshifts by a specialized company
Characteristics
Nutrional values per 100g
energy: 2424kJ / 584kcal
fat: 44g of which saturates: 7,8g
carbohydrates: 27,2g of which sugars: 5,9g
fibre: 3g
protein: 18,2g
salt: 0,03g
The proportion of the essential amino acid tryptophan is particularly high in cashew nuts. Tryptophan, an essential nutrient in serotonin production, can contribute, together with vitamin B6, in the treatment of depression.
Precautions for use
Store protected from light in a cool and dry place, in a tightly closed packing.
Allergens that might be present on the packaging site and be a risk of cross contamination: almonds, gluten, mustard, sesame and soybeans.
This is a preview of the recently viewed products by the user.
Once the user has seen at least one product this snippet will be visible.
Recently viewed Products