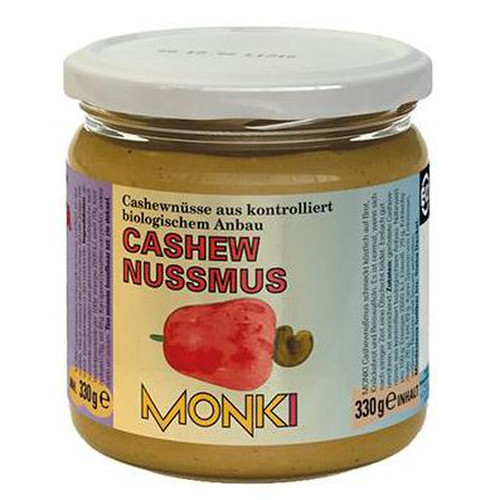 Monki
1
Cashew nut butter, without salt - organic
---
Fabriquant: Monki
Contenu: 330.0
G
Référence: MI001
---
Win 94 beez by buying this product
This cashew nut butter without salt is made of cashew nuts, roasted and ground to obtain a delicious paste rich in nutrients, combining the health properties of its nuts.
Cashew nuts are the fruit of the cashew tree. They have a very high nutritional value and, like all nuts, contains many important vitamins and minerals. As they are rich in iron, copper, zinc, vitamins, proteins and beneficial fatty acids, cashew nuts stimulate the functions of the organism and provide a highly energetic food supplement.
Several epidemiological and clinical studies have found that regular consumption (about 30g per week) of husk fruits, peanuts and oilseeds has a cholesterol-lowering effect, reduces the risk of cardiovascular disease, type 2 diabetes, gallstones in men, gall bladder ablation and colon cancer in women.
Cahsewnuts may be eaten alone as a snack or in hot or cold meals.
Latin name
Anacardium occidentale
Ingredients
roasted Cashew nuts* * from certified organic agriculture
Origin
Ivory Coast, Vietnam
Production
The nuts spreads of Monki are made of only pure organic nuts or seeds and are deliciously creamy.
Characteristics
Nutrional values per 100g
energy: 2477kJ / 591kcal
fat: 46,5g of which saturates: 9,5g
carbohydrates: 22,5g of which sugars: 0g
fibre: 7,5g
protein: 18,5g
sodium: 14mg
The proportion of the essential amino acid tryptophan is particularly high in cashew nuts. Tryptophan, an essential nutrient in serotonin production, can contribute, together with vitamin B6, in the treatment of depression.
Recommendations for use
As no emulsifierhave been used oil of the ground cashew nuts rises to the surface after a while but by simply mixing it reincorporates the rest.
Precautions for use
Store in a cool and dry place. Possible traces of sesame and peanuts.
This is a preview of the recently viewed products by the user.
Once the user has seen at least one product this snippet will be visible.
Recently viewed Products