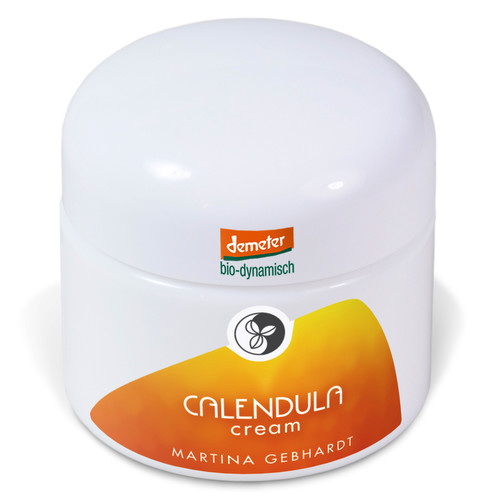 Calendula Cream - Demeter
1
---
Contenu: 50.0
ML
Référence: MG009
---
Win 105 beez by buying this product
Calendula Cream is a time proven marigold cream formula that is very gentle, soothing and nurturing, ideally suited for the delicate skin of babies and children. All Martina Gebhardt baby care products are also particularly suited for neurodermitis-, psoriasis- and allergy-prone skin and this applies as well to babies and children, as to adults.
Martina Gebhardt creams contain wool wax as a base. The special value of the wool wax is that it closely resembles the vernix, the white, cheesy cell layer that covers and protects the baby's skin at birth. Wool wax gently protects sensitive baby skin and is also very effective against diaper rash, especially the CALENDULA Super Protect cream. All Martina Gebhardt BABY AND KIDS products contain solar extractions of Calendula (marigold flowers) for very sensible skins.
INCI
Water (Aqua), Olea Europaea (Olive) Fruit Oil**, Lanolin (Adeps Lanae), Cera Flava** (Beeswax**), Calendula Officinalis Extract**, Rosa Damascena Flower Water**, Spagyrische Essenz von Calendula Officinalis Flower**, Aurum, Argentum, Sulfat, Tocopherol
Ingredients
English version: water,olive oil**, lanolin (wool wax), beeswax**, marigold tincture**, hydrolat of Damascus rose**, spagyric essens (of marigold**, gold, silver, sulfate), vitamin E, without essential oils ** Demeter-certified * from certified organic agriculture ° Component of genuine essential oils
Production
The quality of skin care products depends primarily on the freshness of the raw materials and the methods that are used for processing these materials. Martina Gebhardt uses the freshest herbs and oils. Demeter certifications stands for the holistic, dynamic, rhythmic approach, the strictest quality criteria and the highest quality it ever was for natural cosmetics.
The Woolwax, named "Lanolin" in the INCI, is produced by a washing and centrifuging process that results in a practically pesticide-free substance.
Properties
All
Martina Gebhardt creams
can be combined with any of the
Martina Gebhardt
.
Recommendations for use
Use Calendula cream after baby bath or for everyday protection, especially when the air is dry. May be used as a natural aid on dry patches or chapped skin, or to sooth redness and calm rashes.
Calendula Cream should be used sparingly. The idea is to support, not block the skins natural functions. A small amount goes a long way. Apply only a thin layer of cream and massage thoroughly into the skin. Massaging increases the skins blood circulation and improves the uptake of the creams active constituents.
Precautions for use
All cosmetic products should be applied sparingly, nurturing rather than inhibiting the skins' own functions.
Use in preference a spatula for the creams and ointments.
Avoid temperatures above 25°C and below 2°C. In creams heat can generate a small deposit of oil. This does not diminish the quality of the cosmetic and disappears when remixing the cream.
On Martina Gebhardt website stands that all products should, when possible, be used within 3 months after opening. Under normal hygienic use, this delay can be largely exceeded without problem but if a long period without almost daily use occurs it is advisable to keep the product fresh.
This is a preview of the recently viewed products by the user.
Once the user has seen at least one product this snippet will be visible.
Recently viewed Products