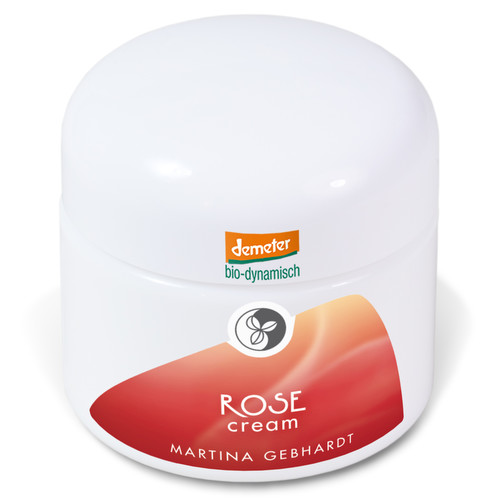 Martina Gebhardt
1
Rose Cream - Demeter
---
Fabriquant: Martina Gebhardt
Contenu: 50.0
ML
Référence: MG001
---
Win 159 beez by buying this product
Rose Cream suites for daytime care (can also be used for night time care) protects your skin in aggressive weather and against environmental influence.
ROSE LINE, for dry and sensitive skin, has soothing, smoothing, moisturising and harmonizing effects and prevents premature wrinkling.
INCI
Water (Aqua), Olea Europaea (Olive) Fruit Oil**, Helianthus Annuus (Sunflower) Seed Oil**, Persea Gratissima (Avocado) Oil*, Lanolin, Rosa Canina Fruit Oil*, Butyrospermum Parkii (Shea) Butter*, Cera Alba** (Beeswax**), Theobroma Cacao (Cocoa) Butter**, Hibiscus Sabdariffa Flower Extract**, Rosa Damascena Flower Extract**, Sambucus Nigra (Elder) Root Extract** Magnolia Officinalis Bark Extract*, Camellia Sinensis (Tea) Leaf Extract**, Spagyrische Essenz von Rosa damascena (Rose) Flower Extract**, Aurum, Argentum, Sulfat, Rosa Damascena Flower Oil*, Santalum Album Wood Oil*, Tocopherol, Geraniol°, Citronellol°
Ingredients
English version: Flower extract of rose** and hibiscus**, olive oil**, sunflower seed oil**, avocado oil*, wool wax, rosehip seed oil (wild rose oil)*, shea butter*, cocoa butter*, beeswax**, Elder root extract**, magnolia bark extract*, green tea extract**, spagyric essence (from Damascus rose flower**, gold, silver, sulfur), real essential rose oil*, sandalwood oil*, vegetable vitamin E, geraniol°, citronellol° ** Demeter-certified * from certified organic agriculture ° Component of genuine essential oils
Production
The quality of skin care products depends primarily on the freshness of the raw materials and the methods that are used for processing these materials. Martina Gebhardt uses the freshest herbs and oils. Demeter certifications stands for the holistic, dynamic, rhythmic approach, the strictest quality criteria and the highest quality it ever was for natural cosmetics.
The Woolwax, named "Lanolin" in the INCI, is produced by a washing and centrifuging process that results in a practically pesticide-free substance.
Properties
All
Martina Gebhardt creams
can be combined with any of the
Martina Gebhardt
.
Recommendations for use
In the morning, after cleansing with the
ROSE Cleanser - Demeter
, apply the
Rose Tonic - Demeter
in order to refresh and vitalize the skin. Tap well to stimulate the skin's blood circulation. Next apply the
Eye Care Fluid - Demeter
or the
Eye care cream - Demeter
to the eye contour and massage the ROSE Cream on the slightly moist skin so that it penetrates well. You only need a small amount. If you prefer cream with a lighter consistency, combine a pea-sized drop of the ROSE cream with one drop of the
Rose Face Lotion - Demeter
on your hand, rub together and apply the mixture to the skin. Generally make-up can be applied after this.
In the evening, you normally only need the
ROSE Cleanser - Demeter
.
Martina Gebhardt cleanser
are fat-replenishing and usually suffice to protect the skin through the night. At night, the skin should be able to "breathe" which means: sweat and waste products can reach the surface of the skin unhindered. This way, your skin remains healthy and recovers its natural balance. For a tired skin a light care with the
Rose Tonic - Demeter
can be useful. For more important problems a
Crème/Baume
or a
Huiles végétales
could be necessary.
Precautions for use
All cosmetic products should be applied sparingly, nurturing rather than inhibiting the skins' own functions.
Use in preference a spatula for the creams and ointments.
Avoid temperatures above 25°C and below 2°C. In creams heat can generate a small deposit of oil. This does not diminish the quality of the cosmetic and disappears when remixing the cream.
On Martina Gebhardt website stands that all products should, when possible, be used within 3 months after opening. Under normal hygienic use, this delay can be largely exceeded without problem but if a long period without almost daily use occurs it is advisable to keep the product fresh.
This is a preview of the recently viewed products by the user.
Once the user has seen at least one product this snippet will be visible.
Recently viewed Products