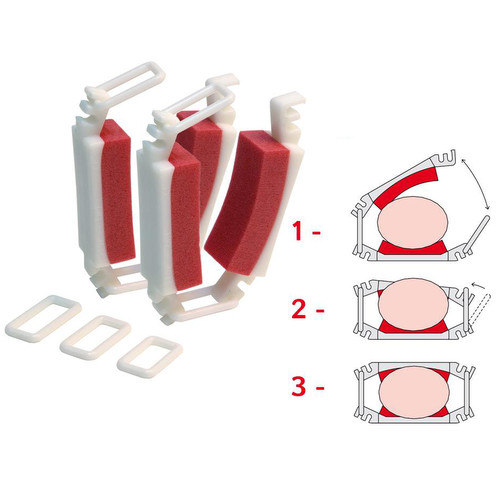 Le Taïman
1
Stop uri - penile compression clamp
---
Fabriquant: Le Taïman
Contenu: 2.0
PIECE
Référence: LT001
---
Win 966 beez by buying this product
Stop URI penile clamp is recommended in casses of urinary losses after surgery, illness or related to age. It has been designed by men who suffer from incontinence and who no longer wanted to wear pads. It compensates for faulty sphincters by compressing the penis (and so closing the urethra) and is easily manipulated to empty the bladder when the need to urinate is felt. It is not adapted in case of retracted penis.
User reviews
"Very good product that allows a normal social life. It takes time to adapt the tightening to each activity.", "Excellent. In face of adversity, the only effective solution to date.", "Very satisfactory even for those who have very sensitive skin like me. I take the precaution to surround the penis with a non-woven compress before putting in the clamp. So, I can stand it all day without realising it."
Characteristics
The box contains:
2 clamps.
3 sizes of clips for each clamp, in total 12 clips.
The instructions for use.
Dimensions: width 7.5cm, thickness 1.7cm and height 4cm maximum
Easy compression setting thanks to the interchangeable clips
Comfortable and lightweight (9g)
Discreet: invisible under clothing
Bonded memory shape foam
Washable: Waterproof foam
No metal parts
CE Medical Device
Properties
Stop-URI penile compression clamp does not constrict the penis thanks to its shape memory foam which adapts to each type of penis. Blood circulation continues on the sides.
Recommendations for use
The 2 clamps shall be used alternately each one every second day to be able to be washed and to allow the polyethylene foam to resume its initial volume. Depending on the people, it can take from a few days to a few weeks to get fully used to the product.
This is a preview of the recently viewed products by the user.
Once the user has seen at least one product this snippet will be visible.
Recently viewed Products