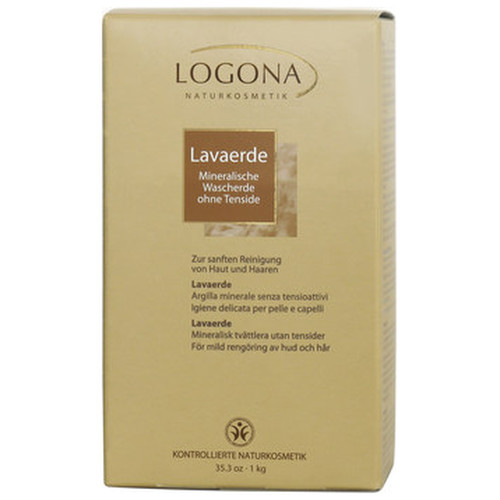 Logona
1
Ghassoul Clay Powder
---
Fabriquant: Logona
Contenu: 1.0
KG
Référence: LG140
---
Win 170 beez by buying this product
Ghassoul Clay Powder is recommended to cleanse sensitive or blemish-prone skin types. Its extremely mild, non-irritating, and non-sudsing cleansing action neither damages the skin's protective acid mantle nor alters the skin's pH. Also recommended to wash normal, oily or dandruffy hair. Rich in minerals, does not foam, fragrance free.
Ingredients
(INCI) : Hectorite
Characteristics
Rhassoul is a natural clay compound that offers very gentle, non-sudsing alternatives to soap and shampoo. Rhassoul is mined only in the Atlas Mountains of Morocco, and has been used for centuries throughout the Middle East as a skin and hair cleanser.
Composé d'ions de silice, de magnésium, de fer, d'aluminium et de calcium, son action lavante est tout à fait différente de celle d'un shampooing ou d'un savon. Au lieu de modifier chimiquement la tension de surface de l'eau (= tensioactif), son action lavante est purement physique.
Comme un buvard, le GHASSOUL fixe et absorbe les particules de graisse et d'impuretés, les cellules mortes et les poussières. Elles seront ainsi éliminées avec l'eau de rinçage.
Le GHASSOUL nettoie en douceur et en profondeur. Il remplace le shampooing traditionnel ou le gel-douche par un lavage plus doux. De plus il donne un gonflant étonnant aux cheveux. Utilisé sur le corps, le Ghassoul agit comme un peeling très doux qui purifie et lisse la peau.
Properties
Ghassoul has many advantages
- Lavaerde is absolutely free of irritants and very kind to the skin
- It cleans hair and skin, without damaging the natural protective layer
- Hair wasshed with Lavaerde is silky soft, shiny and smooth
- It gradually reduces the frequency of hair washing
- Lavaerde is absolutely environmentally-friendly, since it contains no surfactants or other ingredients which could harm water resources
Recommendations for use
For washing skin or hair (for medium hair) mix 3-6 tablespoons filled to the brim with Ghassoul in 6-12 tablespoons hot water to a thick liquid paste. Let swell the Ghassoul a few moments. Then spread the mixture on the moistered skin or in the wet hair and massage gently. Let it work for a short time and then rinse thoroughly with warm water. Finally, dry and care skin or hair as usual.
Huiles essentielles
, or for dry hair a few drops of
Huiles végétales
, can be added to the paste.
This is a preview of the recently viewed products by the user.
Once the user has seen at least one product this snippet will be visible.
Recently viewed Products