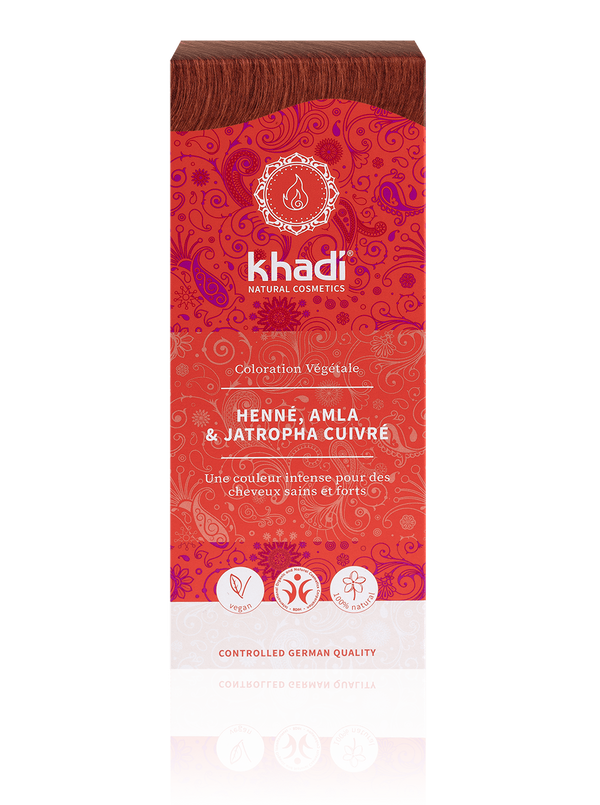 Khadi
1
Herbal Hair Color Henna, Amla and Jatropha
---
Fabriquant: Khadi
Contenu: 100.0
G
Référence: KH006
---
Win 87 beez by buying this product
Intensive colour for healthy and strong hair.
Khadi Herbal Hair Colour Henna, Amla and Jatropha colours the hair orange to red. Henna in combination with Amla and Jatropha gives the hair a darker shade than pure henna. Very dark hair gets a brown to reddish brown hue. Moreover in addition to the henna share, valuable care ingredients are included in this herbal hair color. It gives the hair fullness and shine.
Herbal hair dyes are particularly gentle as they do not interfere with the natural structure of the hair, unlike chemical hair dyes, but covers each individual hair like a protective thin film of colour. Thus the initial hair colour determines the individual dyeing result.
Khadi Natural Cosmetics combines Ayurvedic Nature care with the latest cosmetic technology. The result: highly effective yet gentle natural cosmetics with valuable ingredients that nourish, protect and strengthen hair and scalp completely naturally. Khadi Herbal Hair Colors give the hair an intense yet natural colour. The herbal ingredients strengthen the hair from root to tips: it feels strong and dense, and shines healthy. The longer the exposure time of the hair colour, the more intense the shade, so even gray hair can shine with Khadi Hair Colours in blond, nut brown, black or any other nuance.
See the colour chart .
INCI
Lawsonia Inermis (Henna), Emblica Officinalis (Amla), Eclipta Alba (Bhringaraj), Bacopa Monniera (Brahmi), Acacia Concinna (Shikakai), Terminalia Chebula (Harad), Jatropha Glandulifera (Jatropha), Azadirachta Indica (Neem), Terminalia Bellirica Roxb. (Vibhitaki)
Production
Khadi Natural Cosmetics combines traditional Ayurvedic care with the latest cosmetic technology and European cosmetic standards. The formulations for herbal hair colours, hair and body care are developed on the basis of dermatological findings together with Ayurvedic therapists and all Khadi natural products are made from natural active ingredients through a complex, traditional process.
Khadi natural cosmetics coddle hair and skin with active principles from wild herbs and oils and plants from organic agriculture. Attention is paid to fair trading prices and working conditions and thanks to its cooperations Khadi improves the living conditions of the local residents. Also important for Khadi is the result: highly effective and gentle natural cosmetics with valuable ingredients - free of synthetic dyes, fragrances and preservatives, color enhancers, peroxides, ammonia and other chemical additives.
Characteristics
Herbal Hair Colors really work differently.
Chemical hair colours aggressively remove natural pigments from the interior of the hair shaft, and replace them with synthetic dyes. In this way, the initial hair colour can be completely changed. However, since natural hair pigments have an influence on overall hair structure, repeated chemical colour treatments can make hair fragile and lifeless.
100% Herbal Hair Colors penetrate only into the outer, scaly layer of the hair shaft, giving a coating of colour over this outer layer. The natural hair pigments can, depending on the colouring way, shine through this colour layer so that the initial colour has an influence on the new hair colour.
Properties
Colors the hair in a strong, intense to dark red
high opacity - even with gray hair
strengthens and cares for the hair
Recommendations for use
User manual enclosed in the box (in English, German, French and Italian)
herbal Color Red, Henna, Amla and Jatropha can be mixed with all Khadi herbal colors:
with Khadi Light Brown, Natural Hazel and Dark Brown for warm brown nuances
with Khadi Lihgt Blond, Golden hint and Middle Blond for subtle to intense red blond to copper nuances (ratio: up to 30%)
Precautions for use
Be careful not to inhale the fine powder
Please read the application notes carefully to get the best colour results.
Keep in mind that Khadi herbal Hair Colour dye hair permanently (except for Khadi Senna/Cassia) and that you therefore better dye a test strand before first use to avoid unwanted colour results.
In the case of light or grey hair natural dyes containing a high level of indigo pigments (dark brown shades, Black or Pure Indigo) may cause undesirable greenish colouring. To avoid such unwanted result, it is advisable not to use these dyes directly on light or grey hair but to precede them with a pre-pigmentation using Khadi Henna shades (Henna Pure or Henna Amla Jatropha), so to proceed with a 2-step colouring:
1. Colouring of the hair (or only the roots if it is a regrowth treatment) with a Khadi Henna shade and ending with a rinse before going directly to point 2.
2. Colouring of the hair (or only the roots if it is a regrowth treatment) with the selected dark colour, which will give a homogeneous result without greenish shade.
To reduce reddish in Khadi Light Brown or Natural Hazel, Khadi Indigo may be used as pre-pigmentation (in a way similar to the precedent point).
It is advisable not to mix oil or oily products with Khadi colouring powders, Khadi hair oils can however be used 24 hours after staining to improve their hold: apply the oil 24h after staining, leave it to act one hour and then wash the hair with a shampoo.
This is a preview of the recently viewed products by the user.
Once the user has seen at least one product this snippet will be visible.
Recently viewed Products