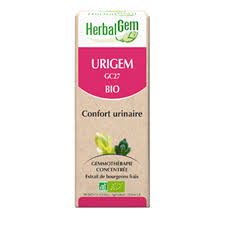 Herbalgem
1
URIGEM - GC27 - organic
---
Manufacturer : Herbalgem
Content: 15.0
ML
Reference: HE183


---
Win 113 beez by buying this product
URIGEM, HerbalGem (former GemmoBase) gemmotherapy complex, soothes urinary disorders.
Thanks to a synergy of extracts of three young shoots and one bud this concentrated complex relieves cystitis or urinary infections of the lower tract (urethra, bladder) in a natural and effective way.
Ingredients
Vegetable Glycerine*, alcohol* (35% vol.), water, Cowberry (Vaccinium vitis idaea L.) young shoots extract*, birch (Betula pendula Roth.) bud extract*, Heather (Calluna vulgaris L. Hull.) young shoots extract* and Juniper (Juniperus communis L.) young leaves extract*. * ingredients from certified organic agriculture
Properties
disinfectant
anti-inflammatory
diuretic (hence its potential contribution to reducing lymphatic stasis)
normalizer of ionic balance and blood and urine pH
Traditional use
lower urinary tract disorders (acute, recurrent or chronic, both infectious and inflammatory)
problems related to the formation of stones (especially oxalic-calcic stones)
lymphatic stasis (as adjuvant remedy)
Recommendations for use
WARNING: It is important to drink enough (spring water or very poorly mineralised water) during the treatment, especially in the presence of kidney or urinary stones.
Normally your therapist will give you the dosage corresponding to your precise problem.
Standard use and dosages for adults):
Take the drops away from (1/2h before) meals, 2 to 3 times per day, pure or diluted in source water or honey. For an optimum result, put them directly on the tongue and wait for a few seconds before swallowing.
In a general way, in acute phase, take from 2 to 5 drops 3 to 7 times per day. And that during one to maximum three days. If the acute phase is not calmed you probably need another bud.
For a one-time disease which is not in acute phase, take 5 to 15 drops per day until the symptoms disappear and during maximum 3 weeks. It might be advisable to start with 5 drops a day and gradually increase the dosage (1 drop per day) if necessary up to 15 - 20 drops. After having obtained the desired result, keep the same number of drops until the end of the cure. If necessary, after 3 weeks take and a week stopping, you can repeat the treatment during a new phase of three weeks. If such a long treatment does not have the expected result(s) you should better change of bud or remedy.
For a ground treatment (preventive and curative), take 5 to 15 drops per day for 3 weeks in a row followed by a week off and this three times. Then one month off before returning to the same cycle, if necessary.
HerbalGem/GemmoBase products are concentrated and 50 (15) ml allow for a 70 (21) days cure based on 10 drops per day.
Precautions for use
Keep away from children.
Not recommended for pregnant women and children under 13 years.
The pregnant lady will take care not to use buds with hormonal action like raspberry, cowberry, giant redwood (or sequoia), oak.
Contraindicated for hormone-dependent cancer.
No prolonged use without a well established menstrual cycle.
This is a preview of the recently viewed products by the user.
Once the user has seen at least one product this snippet will be visible.
Recently viewed Products