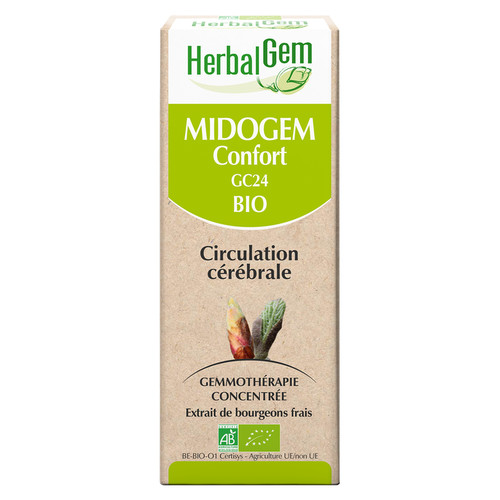 Herbalgem
1
MIDOGEM CONFORT - GC24 - organic
---
Fabriquant: Herbalgem
Contenu: 50.0
ML
Référence: HE136
---
Win 236 beez by buying this product
MIDOGEM, support against migraine attacks.
MIDOGEM comfort, HerbalGem organic gemmotherapy complex, helps prevent migraine attacks with diffuse pain and accelerates remission at the end of the crisis. It also has a calming action and is a nerve balancer in tension headaches and catamenial (menstrual) migraine.
Synergistic action of 3 bud extracts and a mother tincture
Alder bud extract - organic is a recognized remedy against migraines of circulatory or digestive origin thanks to its notable action on the circulatory system and a stomach draining effect.
European Alder bud is a unique remedy in the treatment of circulatory migraines, both acute and chronic. On the one hand, its anti-inflammatory action also acts on the vascular level. On the other hand it thins the blood, improves all blood stasis and so will help revive the cerebral circulation. note that blood platelets are important reservoirs of serotonin and that platelet aggregation causes the release of serotonin what can lead to hyperserotoninergy, which has been linked to the onset of migraine.
Roman Chamomillaherb is used primarily in prevention of migraines. It strengthens the anti-aggregating action of Alder and potentiates its recognized effect in circulatory migraines. Roman Chamomila is also traditionally used in the treatment of painful menstruation, making it an ideal ingredient for headaches related to hormonal disorders.
Alder bud extract - organic is recognized as effective in headaches. On the one hand it is a global hypo-coagulant which makes it useful in the treatment of circulatory stasis and improve circulation is a major element in migraine. On the other hand it has the particularity to act on most metabolisms and especially in hepatocirculatory inflammatory problems, and it is known that liver overload or dysfunction may also be the cause of migraines by toxins (allergens or others) that remain circulating in the blood. In addition, hazel bud remains a good choice in the management of migraine by its nervous rebalancing effect because in the pathophysiology of migraine, disorders of the autonomic nervous system play a preponderant role.
Young shoots of Dog Rose bud extract - organic are effective in disorders related to an allergic terrain (asthma, allergic headaches).
Ingredients
Vegetable glycerin*, alcohol* (42% vol.), water; extracts of European Alder buds* (Alnus glutinosa (L) Gaertn.) and hazel buds* (Corylus avellana L.); mother tincture of feverfew* (Tanacetum parthenium (L.) Schl. Bip.); extract of wild rose shoots* (Rosa canina L.) * ingredients from certified organic agriculture
Production
From fresh organic buds collected in the forests or from organic farming.
Characteristics
The HerbalGem/GemmoBase products are concentrated and 50 ml allow for a 70 days cure based on 10 drops per day ( HerbalGem ).
Properties
Helps prevent a migraine crisis
Accelerates remission at the end of a migraine crisis
Calming and rebalancing action in tension headaches
Traditional use
Migraines with diffuse pains
Allergic migraines
Catamenial migraines (hormonal)
Recommendations for use
- Take the drops 1/2h before meals, 2 to 3 times per day, pure or diluted in source water or honey. For an optimum result, put them directly on the tongue and wait for a few seconds before swallowing.
- Gradually increase the dosage (1 drop per day from 5 drops) to 15 - 20 drops. After having obtained the desired result, keep the same number of drops until the end of the cure.
- One generally recommends a 3 weeks cure, repeated 3 times, with a week of downtime between each cure.
- Correct dosage to be confirmed by your therapist.
Precautions for use
- Keep away from children.
- Contra-indication: pregnant lady, epileptic children, or if taking other blood thinners, consult the doctor.
- The pregnant lady will take care not to use buds with hormonal action like raspberry, bilberry, giant redwood (or sequoia), oak.
This is a preview of the recently viewed products by the user.
Once the user has seen at least one product this snippet will be visible.
Recently viewed Products