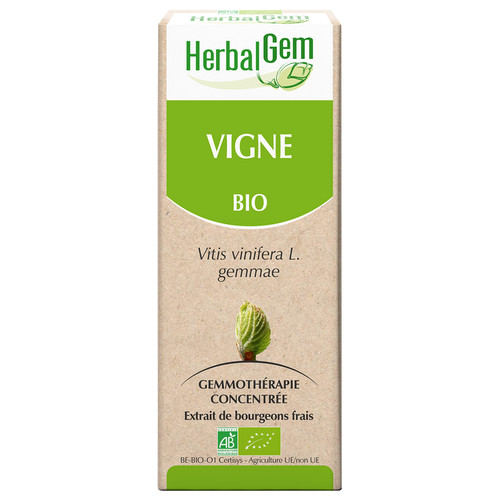 Grape Vine bud extract - organic
1
---
Contenu: 50.0
ML
Référence: HE066
---
Win 236 beez by buying this product
The gemmotherapic action of Grape Vine lies in chronic inflammations at any level.
Grape Vine has been well known for a very long time for its fruits and all by-products which result from them. People know less about the use of its leaves, its sap (eye-wash, eye-salve) and its buds.
At cutaneous level Grape Vine bud macerate constitutes a remedy for some dermatitis, erysipelas, warts and collagenosis. Most of the symptoms have an internal origin, often intestinal.
At the level of the digestive system, the Vine bud acts in intestinal inflammations, such as granulomatous proctocolitis, colitis, Crohn ileitis.
As anti-inflammatory it intervenes at circulatory level in hemorrhoids, painful phlebitis, uterine haemorrhages in menopause, painful hypermenorrhoea, adenitis (inflammation of the lymph nodes).
Nevertheless it is at joints level that the anti-inflammatory properties of Vine bud apply, to the great relief of the users, especially in chronic affections such as acute joints rheumatism, various arthrosic pains, arthrosis (coxarthrosis, gonarthrosis), especially those of the small joints and those with hyperuricemia.
The vine bud slows and stops joint deformations, erythema nodosum, because it inhibits ostheophytes formation. It is however active in menopause (calcium setting happens at colon level!).
At the level of the urogenital system the Vine bud is a remedy for fibroids, ovarian cyst, lipoidic nephrosis.
At pulmonary level it constitutes an alternative to sarcoidosis and improves various polyclonal hyperimmune syndromes ( autoimmune diseases, often of digestive origin).
The Vine bud slows also the neo-formative process (it inhibits tumoral process) and is considered as antisycotic.
The above information is a translation of the
FEH
with its authorisation.
Latin name
Vitis Vinifera gemmae
Ingredients
Grape Vine* bud, Alcohol* (35%), Water, Vegetable Glycerine * ingredients from certified organic agriculture
Properties
The HerbalGem/GemmoBase products are concentrated and 50 ml allow for a 70 days cure based on 10 drops per day. For a global view and information on gemmotherapy products from
HerbalGem
.
Traditional use
- intestinal colic (5-19 drops/day)
- aches (5-10 drops/day)
- intestinal inflammation (5-15 drops/day)
- ovarian cyst (5-15 drops/day)
- wart (5-15 drops/day)
Recommendations for use
- Take the drops 1/2h before meals, 2 to 3 times per day, pure or diluted in source water or honey. For an optimum result, put them directly on the tongue and wait for a few seconds before swallowing.
- Gradually increase the dosage (1 drop per day from 5 drops) to 15 - 20 drops. After having obtained the desired result, keep the same number of drops until the end of the cure.
- One generally recommends a 3 weeks cure, repeated 3 times, with a week of downtime between each cure.
- Correct dosage to be confirmed by your therapist.
Precautions for use
- Keep away from children.
- No specific contra-indication.
- The pregnant lady will take care not to use buds with hormonal action like raspberry, bilberry, giant redwood (or sequoia), oak.
This is a preview of the recently viewed products by the user.
Once the user has seen at least one product this snippet will be visible.
Recently viewed Products