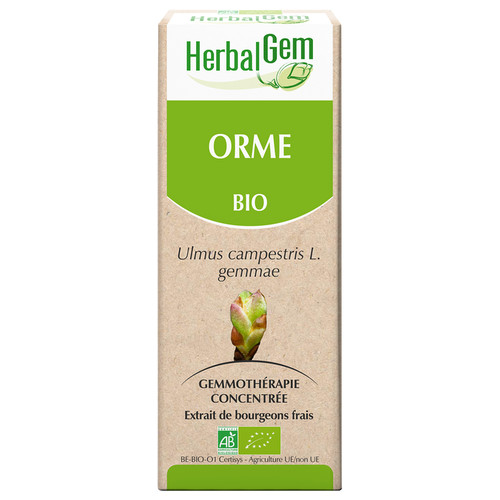 Herbalgem
1
Elm bud extract - organic
---
Fabriquant: Herbalgem
Contenu: 50.0
ML
Référence: HE051
---
Win 236 beez by buying this product
Great drainer of the skin the Elm bud purifies the skin. It has an action in oozing, vesicular, inflammatory not yet infected eczemas. It is recommended in various inflammatory skin diseases such as acne, herpes, furunculosis.
Thanks to its cutaneous activity it detoxifies the body from the inside and helps reduce uric acid, cholesterol. It acts in particular on the urogenital system since it remineralises the body, solves the problems of gout, eliminates leucorrhea and relieves rheumatism.
As for the bark, the Elm bud stops diarrheas. Elm constitutes a transition remedy which is frequently associated with other species.
The above information is a translation of the FEH with its authorisation.
Latin name
Ulmus Campestris gemmae
Ingredients
Elm* buds, Alcohol* (35%), Water, Vegetable Glycerine* * ingredients from certified organic agriculture
Production
Based on fresh buds.
Characteristics
The Elm bark was formerly considered as a panacea for skin problems. The Elm bud has a similar therapeutic profile.
Traditional use
Eczema (5-10 drops/day)
Furunculosis (5-15 drops/day)
Herpes (5-15 drops/day)
Drainer of the skin (5-15 drops/day)
Recommendations for use
Normally your therapist will give you the dosage corresponding to your precise problem.
Standard use and dosages for adults):
Take the drops away from (1/2h before) meals, 2 to 3 times per day, pure or diluted in source water or honey. For an optimum result, put them directly on the tongue and wait for a few seconds before swallowing.
In a general way, in acute phase, take from 2 to 5 drops 3 to 7 times per day. And that during one to maximum three days. If the acute phase is not calmed you probably need another bud.
For a one-time disease which is not in acute phase, take 5 to 15 drops per day until the symptoms disappear and during maximum 3 weeks. It might be advisable to start with 5 drops a day and gradually increase the dosage (1 drop per day) if necessary up to 15 - 20 drops. After having obtained the desired result, keep the same number of drops until the end of the cure. If necessary, after 3 weeks take and a week stopping, you can repeat the treatment during a new phase of three weeks. If such a long treatment does not have the expected result(s) you should better change of bud or remedy.
For a ground treatment (preventive and curative), take 5 to 15 drops per day for 3 weeks in a row followed by a week off and this three times. Then one month off before returning to the same cycle, if necessary.
HerbalGem/GemmoBase products are concentrated and 50 (15) ml allow for a 70 (21) days cure based on 10 drops per day.
Precautions for use
Keep away from children.
No specific contra-indication.
The pregnant lady will take care not to use buds with hormonal action like raspberry, bilberry, giant redwood (or sequoia), oak.
This is a preview of the recently viewed products by the user.
Once the user has seen at least one product this snippet will be visible.
Recently viewed Products