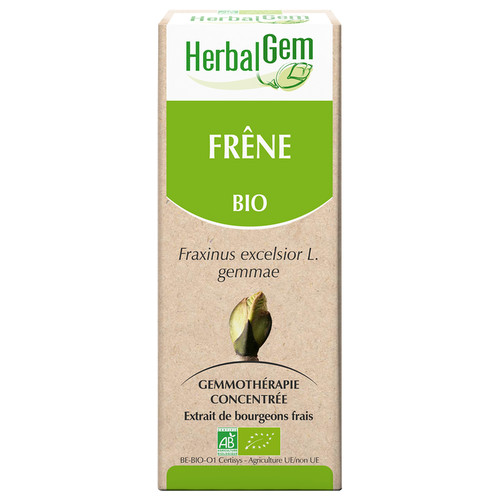 Herbalgem
1
Ash bud extract - organic
---
Fabriquant: Herbalgem
Contenu: 50.0
ML
Référence: HE041
---
Win 236 beez by buying this product
The suppleness, flexibility of Ash wood are curiously similar to certain medicinal properties of its bud preparation in gemmotherapy, namely its action on ligaments.
The ash has a targeted action on the osteo-articular apparatus and on the renal system. Recommended for overweight it reduces cholesterol and uric acid with a light action on urea. It acts in gout, has an anti-inflammatory action on synovial level and has anti-inflammatory properties on ligaments in general.
Comparing the medicinal properties of different parts of the tree with those of the bud we see that the Ash can be considered as a great potential anti-rheumatic remedy, which is not yet currently mentioned in literature. Other interesting properties of the bud are worth checking their presence at bud level. These include: trapping free radicals, depurative, febrifugal and prostate protecting properties.
The above information is a translation of the
FEH
with its authorisation.
Latin name
Fraxinus excelsior gemmae
Ingredients
Ash* bud, Alcohol* (35%), Water, Vegetable Glycerine * ingredients from certified organic agriculture
Properties
The HerbalGem/GemmoBase products are concentrated and 50 ml allow for a 70 days cure based on 10 drops per day. For a global view and information on gemmotherapy products from
HerbalGem
.
Traditional use
- Uric acid (5-10 drops/day).
- Gallstones (5-10 drops/day).
- Fever (5-15 drops/day).
- Gout (5-15 drops/day).
- Osteo-articular system: inflammation of ligaments, gout, synovial anti-inflammatory, anti-rheumatic.
- Nervous system: anxiety neurosis, stress.
- Hepatorenal system: diuretic, tonic of the suprarenals, renal failure, obesity, biliary dyskinesia, reduces total cholesterol level, uricemia.
Recommendations for use
- Take the drops 1/2h before meals, 2 to 3 times per day, pure or diluted in source water or honey. For an optimum result, put them directly on the tongue and wait for a few seconds before swallowing.
- Gradually increase the dosage (1 drop per day from 5 drops) to 15 - 20 drops. After having obtained the desired result, keep the same number of drops until the end of the cure.
- One generally recommends a 3 weeks cure, repeated 3 times, with a week of downtime between each cure.
- Correct dosage to be confirmed by your therapist.
Precautions for use
- Keep away from children.
- No specific contra-indication.
- The pregnant lady will take care not to use buds with hormonal action like raspberry, bilberry, giant redwood (or sequoia), oak.
This is a preview of the recently viewed products by the user.
Once the user has seen at least one product this snippet will be visible.
Recently viewed Products