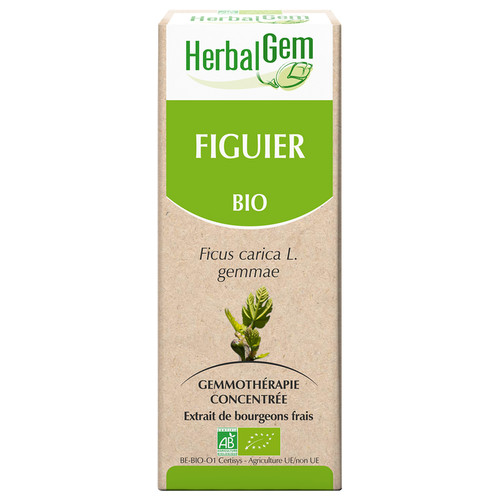 Herbalgem
1
Fig tree bud extract - organic
---
Fabriquant: Herbalgem
Contenu: 50.0
ML
Référence: HE039
---
Win 236 beez by buying this product
The Fig tree bud is an extraordinary remedy (the Fig tree was sacred in antiquity) because it acts in depth on our endocrine system, contributing thus to the regulation of good number of problems.
Among the most important are:
At
stomach
level.
The Fig tree macerate is used as stomach drainer. Powerful remedy for gastric and duodenal ulcer, diaphragmatic hernia, esophageal dysphagia, gastritis and colitis. It also acts effectively in bulimic tendencies, regulates appetite and stomach secretions (hypo - hyperchlorhydria).
It is effective in migraines. It is also recommended in iron deficiency anemia, feeling of heavy head.
At
nervous
level.
Its calming action is remarkable. It constitutes the opposite pole of blackcurrant macerate. The fig tree sends to sleep, stimulates dreams and calms thoughts. It will be a precious help to reduce problems induced by jet lag when travelling or for persons working on shift. Take fig tree to fall asleep and blackcurrant to get awake. It is an anti-anxiety of first order, useful to neutralize the effects of stress, as well internally as externally. It acts in all nervous disorder (spasmophilia, epilepsy, facial neuralgia, etc...) and will help to ensure healthy, natural sleep.
At
psychical
level.
The Fig tree macerate has a characteristic action on the regulating system of our body that are hormones. Active on the brain (cortico-hypothalamic axis ), it acts in existential depression, neurosensorial balance, psychosomatic disorders, subjective syndromes, general state.
The Fig tree macerate is a typical YIN remedy (whereas blackcurrant of YANG nature is).
The above information is a translation of the
FEH
with its authorisation.
Latin name
Ficus carica gemmae
Ingredients
Fig tree* bud, Alcohol* (35%), Water, Vegetable Glycerine * ingredients from certified organic agriculture
Properties
The HerbalGem/GemmoBase products are concentrated and 50 ml allow for a 70 days cure based on 10 drops per day. For a global view and information on gemmotherapy products from
HerbalGem
.
Traditional use
- Stomach acidity (5-15 drops/day).
- Anxiety (5 drops/day).
- Depression (5-15 drops/day).
- Oesophageal dysphagia of babies (regurgitation) (1 drop/day in the bottle) - Nervousness (5-15 drops/day).
- Neurosis (5-15 drops/day).
To know more about all the uses of macerates, refer to the book "
Treatise on Gemmotherapy - The Therapeutic Use of Buds
".
Recommendations for use
- Take the drops 1/2h before meals, 2 to 3 times per day, pure or diluted in source water or honey. For an optimum result, put them directly on the tongue and wait for a few seconds before swallowing.
- Gradually increase the dosage (1 drop per day from 5 drops) to 15 - 20 drops. After having obtained the desired result, keep the same number of drops until the end of the cure.
- One generally recommends a 3 weeks cure, repeated 3 times, with a week of downtime between each cure.
- Correct dosage to be confirmed by your therapist.
Precautions for use
- Keep away from children.
- No specific contra-indication.
- The pregnant lady will take care not to use buds with hormonal action like raspberry, bilberry, giant redwood (or sequoia), oak.
This is a preview of the recently viewed products by the user.
Once the user has seen at least one product this snippet will be visible.
Recently viewed Products