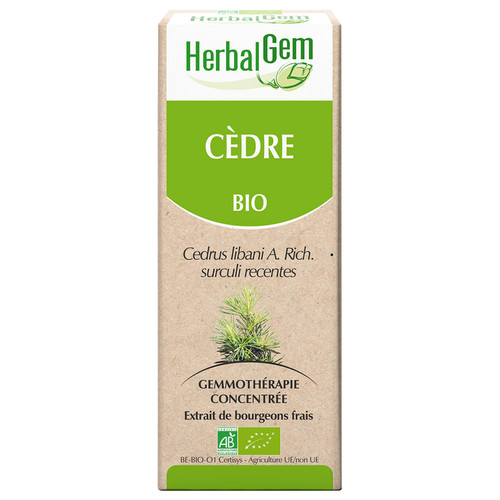 Cedar of Lebanon bud extract - organic
1
---
Contenu: 50.0
ML
Référence: HE032
---
Win 236 beez by buying this product
The Cedar of Lebanon is principally a draining remedy of the cutaneous system. It is, by the way, a plant which enters in good number of cosmetic preparations. It works particularly in dry eczema, chronic dermatitis, psoriasis, keratotic eczema , lichenified dermatosis.
It is a remedy of the elderly whose skin, badly vascularised, dries or develops a senile prurit. The skin constitutes one of the emonctories to be put in function when kidneys and liver become insufficient. It is interesting to notice that the cedar is also indicated in irritations of the digestive and respiratory mucosa. These two functions, in relation to the skin, are just connected to the same element (metal) of Chinese medicine which regulates lung and large intestine.
It seems then logical to see Cedrus libani used for syndromes of chronic poisoning and allergic events. Taken for long enough, it is acting deeply to eliminate toxins from the body.
The above information is a translation of the FEH with its authorisation.
Latin name
Cedrus Libani surc. rec. gemmae
Ingredients
Cedar of Lebanon*(Cedrus libani) young shoots, Alcohol* (35%), Water, Vegetable Glycerine* * ingredients from certified organic agriculture
Production
Based on young shoots harvested in the forests.
Properties
The HerbalGem/GemmoBase products are concentrated and 50 ml allow for a 70 days cure based on 10 drops per day. For a global view and information on gemmotherapy products from
HerbalGem
.
Traditional use
- Eczema (5-15 drops/day).
- Skin (drainer) (5-15 drops/day).
- Psoriasis (5-15 drops/day).
- Digestive system: irritation of the digestive mucosa.
- Immune system: allergy syndromes, chronic poisoning.
- Skin system: drainer, chronic dermatitis, dry eczema and keratotic, lichenified dermatosis, aging skin, dry skin, badly vascularised.
- Respiratory system: irritation of the respiratory mucosa.
Recommendations for use
- Take the drops 1/2h before meals, 2 to 3 times per day, pure or diluted in source water or honey. For an optimum result, put them directly on the tongue and wait for a few seconds before swallowing.
- Gradually increase the dosage (1 drop per day from 5 drops) to 15 - 20 drops. After having obtained the desired result, keep the same number of drops until the end of the cure.
- One generally recommends a 3 weeks cure, repeated 3 times, with a week of downtime between each cure.
- Correct dosage to be confirmed by your therapist.
Precautions for use
- Keep away from children.
- No specific contra-indication.
- The pregnant lady will take care not to use buds with hormonal action like raspberry, bilberry, giant redwood (or sequoia), oak.
This is a preview of the recently viewed products by the user.
Once the user has seen at least one product this snippet will be visible.
Recently viewed Products