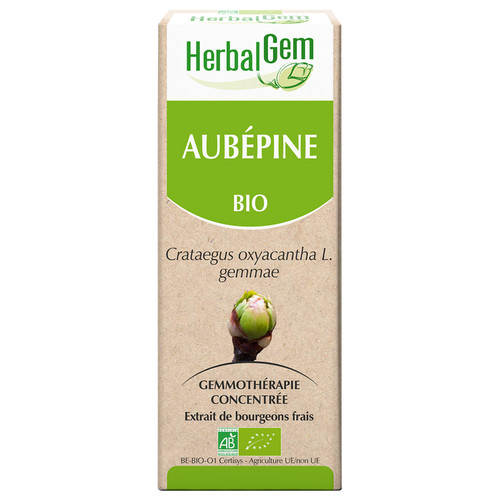 Hawthorn bud extract - organic
1
---
Contenu: 50.0
ML
Référence: HE026
---
Win 236 beez by buying this product
Traditionally used for heart problems, the Hawthorn bud serves as a perfect example of how a bud can incorporate all the properties of the whole plant. It possesses both the calming properties of the flowers (cardiac rhythm, tension) and the tonic influence of the fruit on the heart muscle.
At circulatory level the Hawthorn bud has an arterial antisclerotic action and works as a heart drainer. Great remedy of the functional arrhythmias (distressing extrasystoles, tachycardias), the hawthorn is ambivalent because it normalises tension whatsoever from a hypo- or a hypertension. The macerate has a positive inotropic and chronotropic action.
In the insufficiencies of the myocardium, hawthorn reinforces the contractile force of the heart. It is also indicated in the late effects of infarction, angor pectoris (angina pectoris), tired heart, precordial anxiety (useful as cardiac sedative).
At nervous system the hawthorn bud is a sedative of the central nervous system. Therefore it acts as an anxiolytic, having sympathicolytic properties while balancing the vago-sympathetic system. So it plays a role in treatments of existential depression.
At hormonal level it is indicated in hyperthyroidism.
At digestive level it helps regulate compulsive eating trend leading to overweight.
At pulmonary level it calms non-allergic dyspnoea of intrinsic origin.
It intervenes in any degenerative disease leading to tissue sclerosis.
The above information is a translation of the FEH with its authorisation.
Latin name
Crataegus oxyacantha gemmae
Ingredients
Hawthorn* buds, Alcohol* (35%), Water, Vegetable Glycerine* * ingredients from certified organic agriculture
Production
Based on buds harvested in the forests.
Properties
The HerbalGem/GemmoBase products are concentrated and 50 ml allow for a 70 days cure based on 10 drops per day.
Traditional use
- Angina pectoris (10-20 drops/day to take at about 12 o'clock).
- Heart (drainage) (5-10 drops/day).
- Hypertension (5-15 drops/day).
- Hypotension (5-15 drops/day).
Recommendations for use
Take the drops 1/2h before meals, 2 to 3 times per day, pure or diluted in source water or honey. For an optimum result, put them directly on the tongue and wait for a few seconds before swallowing.
Gradually increase the dosage (1 drop per day from 5 drops) to 15 - 20 drops. After having obtained the desired result, keep the same number of drops until the end of the cure.
One generally recommends a 3 weeks cure, repeated 3 times, with a week of downtime between each cure.
Correct dosage to be confirmed by your therapist.
Precautions for use
- Keep away from children.
- No specific contra-indication.
- The pregnant lady will take care not to use buds with hormonal action like raspberry, bilberry, giant redwood (or sequoia), oak.
This is a preview of the recently viewed products by the user.
Once the user has seen at least one product this snippet will be visible.
Recently viewed Products