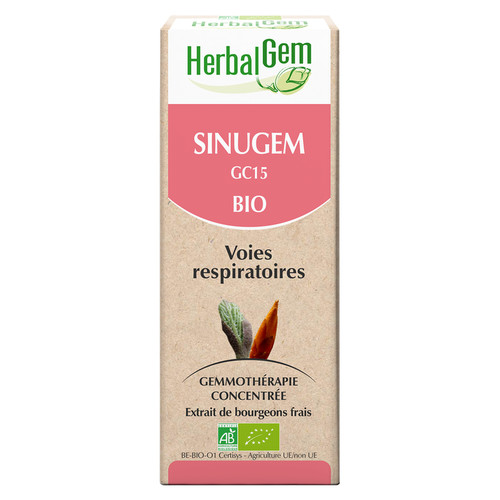 Herbalgem
1
SINUGEM - GC15 - organic
---
Fabriquant: Herbalgem
Contenu: 50.0
ML
Référence: HE014
---
Win 236 beez by buying this product
SINUGEM, HerbalGem (former GemmoBase) organic gemmotherapy complex, to clean up the respiratory system and help you breathe more easily.
This herbal remedy is an association of four bud extracts working in synergy:
Ingredients
Hornbeam* Buds (Carpinus bet.), Alder-tree* (Alnus glut.), Dog Rose* Buds (Rosa Canina), Blackcurrant* Buds (Ribes nigrum), Alcohol* (35%), Water, Vegetable Glycerin * ingredients from certified organic agriculture
Production
From fresh buds collected in the forests or from organic farming.
Characteristics
- Cleanses the respiratory tracts.
- Dissipates phlegms.
- Cleans the nasal mucosa.
- Acts as a shield against external attacks.
- Strengthens the natural defences.
- Acts against chronic sinusitis. Take Sinugem in period of sinusitis.
Properties
The HerbalGem/GemmoBase products are concentrated and 50 ml allow for a 70 days cure based on 10 drops per day.
Recommendations for use
- Take the drops before meals, pure or diluted in source water or honey. For an optimum result, put them directly on the tongue and wait for a few seconds before swallowing.
- Adults: preventive: 5 to 10 drops per day.
- Adults: healing: 5 drops, 3 times a day.
- Baby: 1 to 3 drops a day in the baby's bottle or through the mother's milk.
- Kids up to 13 years: 3 to 8 drops a day. Start with 3 drops and increase by 1 drop every day until you obtain a stable result.
Precautions for use
- Keep away from children.
- No specific contra-indication.
- The pregnant lady will take care not to use buds with hormonal action like raspberry, bilberry, giant redwood (or sequoia), oak.
This is a preview of the recently viewed products by the user.
Once the user has seen at least one product this snippet will be visible.
Recently viewed Products