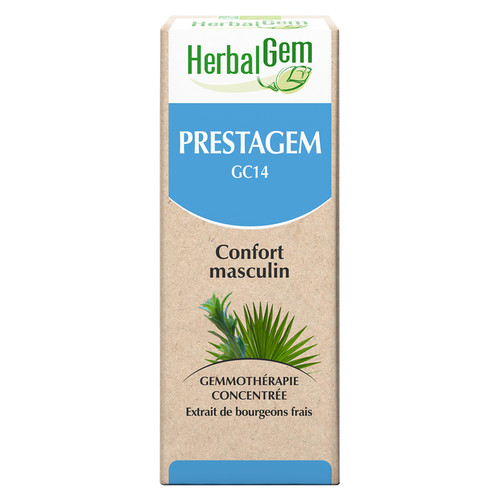 Herbalgem
1
PRESTAGEM - GC14
---
Fabriquant: Herbalgem
Contenu: 50.0
ML
Référence: HE013
---
Win 236 beez by buying this product
PRESTAGEM, HerbalGem (former GemmoBase) gemmotherapy complex, from HerbalGem (former Gemmobase) to improve urinary comfort and prostate disorders. This complex acts in depth in a progressive and long lasting way.
This herbal remedy is an association of three extracts working in synergy:
Serenoa serrulata (fruits rich in phytosterols, plant steroids). The tincture acts in benign prostate inflammation and is regarded as an "aphrodisiac".
Small-flowered Willow-weed (Epilobium parviflorum) is a plant well known for its astringency and its congestion relieving effect on the pelvis.
Giant Redwood (Sequoia) will effectively relieve even chronic cases of prostatic inflammation and congestion, while treating sexual fatigue.
The prostate can cause a lot of trouble while getting older. PRESTAGEM can be taken both to prevent and to relieve symptoms (however a medical monitoring is not to neglect).
PRESTAGEM clearly improves following symptoms of prostate congestion, inflammation and hypertrophy.
Very frequent envy to urinate with difficulty at urination, especially by night.
Although imperative, the envy to urinate results in a low disposal, which increases stress.
Lowered libido, reduced virility. The desire is present, the erection is possible, but a loss of stiffness is constant.
Ingredients
Saw Palmetto (Serenoa Serrulata), Small-flowered Willow-weed (Epilobium parviflorum), Giant Redwood Buds (Sequoia gig.), Alcohol* (35%), Water, Vegetable Glycerin * ingredients from certified organic agriculture
Production
From fresh buds collected in the forests or from organic farming.
Characteristics
- Preventive action against prostatic inflammation.
- Relieves prostatic inflammation and congestion.
- Relieves urinary discomfort.
- Effective in case of repeated cystitis.
Properties
The HerbalGem/GemmoBase products are concentrated and 50 ml allow for a 70 days cure based on 10 drops per day.
Recommendations for use
- Take the drops before meals, pure or diluted in source water or honey. For an optimum result, put them directly on the tongue and wait for a few seconds before swallowing.
- Adults: preventive: 5 to 15 drops per day.
- Adults: healing: 5 drops, 3 times a day.
- Shake before use.
- For men over 50, this complex is used until vigour is restored and any other problems have disappeared (medical follow-up essential).
Precautions for use
- Keep away from children.
- No specific contra-indication.
- The pregnant lady will take care not to use buds with hormonal action like raspberry, bilberry, giant redwood (or sequoia), oak.
This is a preview of the recently viewed products by the user.
Once the user has seen at least one product this snippet will be visible.
Recently viewed Products