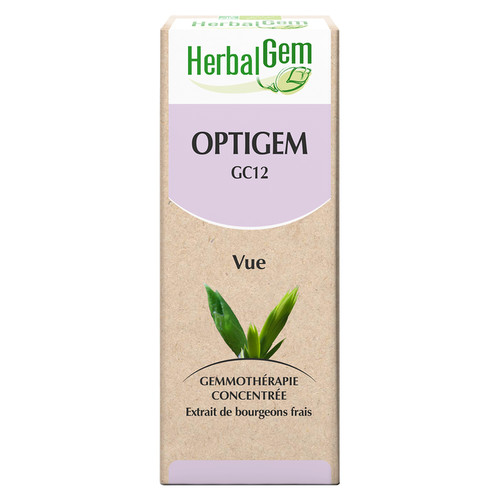 Herbalgem
1
OPTIGEM - GC12
---
Fabriquant: Herbalgem
Contenu: 50.0
ML
Référence: HE011
---
Win 236 beez by buying this product
OPTIGEM, HerbalGem (former GemmoBase) partially organic gemmotherapy complex, nourishes your eyes. A selection of young shoots an nutrients to improve the ocular function and relieve eye tiredness.
This herbal remedy is an association of two young shoots extracts and nutrients working in synergy:
Juniper is known for its purifying action on the liver, organ directly in relation with ocular function. It is indicated in hepatic insufficiency, chronic hepatitis, medicamentous intoxication, alcoholic cirrhosis, allergy. It acts in-depth as an overall invigorator of the body and contributes to eliminate uric acid, urea, cholesterol, sugar in blood.
Young shoots of Bilberry act at the eye level in the same way as the fruits and leaves. During war fighter pilots used Bilberry extracts to improve their night vision.
Lutein is a carotenoid that is not produced by the body but must be provided by the consumption of leafy vegetables or food supplements. It acts as an antioxidant on the eye level and helps to filter the blue light which causes damage to the macula, particularly rich in carotenoids. Taking alimentary lutein increases the pigment density of the macula and can help limiting damages to it (age-related dry degeneration of the macula). The age-related degeneration of the macula is one of the world's most frequent blindness causes, apart from cataract.
Organic Silicon is an essential component of the eye and a basic remedy of the eye sclerosis.
Take in association with "OPTIGEM Eye Drops".
Ingredients
Bilberry* young shoots (Vaccinium Myrtillus), Juniper* young shoots (Juniperus Communis), Organic Silicon (Monomethylsilanetriol), Lutein, Alcohol* (30%), Water, Vegetable Glycerin * ingredients from certified organic agriculture
Production
From fresh buds collected in the forests or from organic farming.
Characteristics
- Improves the eye function.
- Relieves eye tiredness.
- Purifies the liver, organ linked to the eye function.
- Contributes to healthy eye retina.
- Helps to preserve the eye structure.
Properties
The HerbalGem/GemmoBase products are concentrated and 50 ml allow for a 70 days cure based on 10 drops per day.
Recommendations for use
- Take the drops before meals, pure or diluted in source water or honey. For an optimum result, put them directly on the tongue and wait for a few seconds before swallowing.
- Adults: 10 drops twice a day before eating.
- Kids up to 13 years: 3 to 8 drops a day. Start with 3 drops and increase by 1 drop every day until you obtain a stable result.
Precautions for use
- Keep away from children.
- No specific contra-indication.
- The pregnant lady will take care not to use buds with hormonal action like raspberry, bilberry, giant redwood (or sequoia), oak.
This is a preview of the recently viewed products by the user.
Once the user has seen at least one product this snippet will be visible.
Recently viewed Products