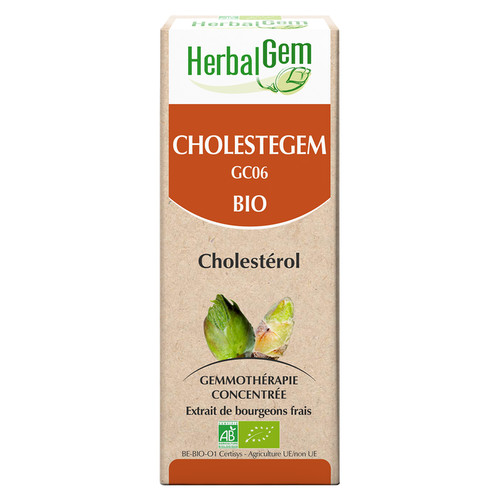 Herbalgem
1
CHOLESTEGEM - GC06 - organic
---
Fabriquant: Herbalgem
Contenu: 50.0
ML
Référence: HE005
---
Win 236 beez by buying this product
CHOLESTEGEM gemmotherapy complex controls your cholesterol. It helps to equilibrate the lipid profile by stabilizing the levels of "good cholesterol" and in reducing the levels of "bad cholesterol".
This concentrated organic herbal remedy is an association of five bud extracts ...
… and three essential oils working in synergy:
Pepermint essential oil - organic essential oil is well known for softening the fire element (PITA) and shows thus a cooling effect traditionally used for food. Its contribution in this complex is an energetic dispersion of internal heat excess (cholesterol) and a digestion-enhancing function by activation of bile, liver and pancreas functions.
Atlas Cedar essential oil - organic essential oil acts on the lymphatic circulation and has a congestion relieving effect.
Rosemary Verbenone essential oil - organic essential oil has at the same time a circulatory and a hepatic function which are good complements to the action of rosemary mother macerate. This oil has a cholesterolitic action, supports hepatic regeneration and allows a better biliary fluidity, preventing gallstones (cholesterol) at the same time. It regularizes the general hepatobiliary function and acts in dyslipemia (hypertriglyceridaemia).
Ingredients
Rosemary* Buds (Rosmarinus Officinalis), Olive* Buds (Olea eur.), Birch* Buds (Betula Alba), Lime* Buds (Tilia tom.), Almond* Buds (Prunus amyg.), Pepermint* Oil (Mentha Piperita), Cedar* Oil (Cedrus atl.), Alcohol* (35%), Water, Vegetable Glycerin * ingredients from certified organic agriculture
Production
From fresh buds collected in the forests or from organic farming.
Characteristics
- Removes fatty substances (including saturated fatty acids) from the vessels.
- Stabilizes the level of "good" cholesterol.
- Reduces the level of "bad" cholesterol.
- Helps to balance the lipid profile.
Recommendations for use
Normally your therapist will give you the dosage corresponding to your precise problem.
Standard use and dosages for adults):
Take the drops away from (1/2h before) meals, 2 to 3 times per day, pure or diluted in source water or honey. For an optimum result, put them directly on the tongue and wait for a few seconds before swallowing.
In a general way, in acute phase, take from 2 to 5 drops 3 to 7 times per day. And that during one to maximum three days. If the acute phase is not calmed you probably need another bud.
For a one-time disease which is not in acute phase, take 5 to 15 drops per day until the symptoms disappear and during maximum 3 weeks. It might be advisable to start with 5 drops a day and gradually increase the dosage (1 drop per day) if necessary up to 15 - 20 drops. After having obtained the desired result, keep the same number of drops until the end of the cure. If necessary, after 3 weeks take and a week stopping, you can repeat the treatment during a new phase of three weeks. If such a long treatment does not have the expected result(s) you should better change of bud or remedy.
For a ground treatment (preventive and curative), take 5 to 15 drops per day for 3 weeks in a row followed by a week off and this three times. Then one month off before returning to the same cycle, if necessary.
HerbalGem/GemmoBase products are concentrated and 50 (15) ml allow for a 70 (21) days cure based on 10 drops per day.
Precautions for use
- Keep away from children.
- No specific contra-indication.
- The pregnant lady will take care not to use buds with hormonal action like raspberry, bilberry, giant redwood (or sequoia), oak.
This is a preview of the recently viewed products by the user.
Once the user has seen at least one product this snippet will be visible.
Recently viewed Products