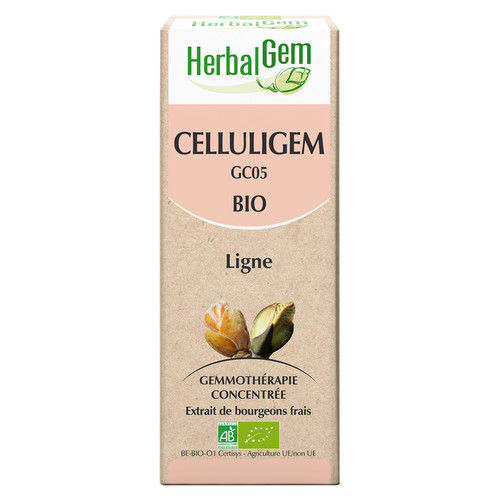 Herbalgem
1
CELLULIGEM - GC05 - organic
---
Fabriquant: Herbalgem
Contenu: 50.0
ML
Référence: HE004
---
Win 236 beez by buying this product
CELLULIGEM gemmotherapy complex can help to reduce and even eliminate cellulite gently and progressively.
This concentrated organic herbal remedy for cellulite problems is an association of three bud extracts working in synergy:
Sweet Chestnut bud extract - organic acts on the lymphatic system and relieves its congestion. It acts as a potent venous and lymphatic cleanser. It is indicated in overload phenomena, acts on the feeling of heaviness and resorbs oedemas.
Ash bud extract - organic is one of the most powerful drainers of the renal system, helping to eliminate uric acid, reducing high cholesterol and also acting as an anti-inflammatory on cellulitis.
Hazel bud extract - organic is a key-remedy in the treatment of sclerotic and fibrotic tissues. It helps to alleviate peripheral edema, circulatory stasis and liver fatigue.
CELLULIGEM is a powerful drainer. It contributes to the elimination of metabolism wastes, even those accumulated for a long time. The synergy action of the 3 buds makes CELLULIGEM the most effective remedy known in gemmotherapy. It has a slow but long-term action.
Ingredients
Sweet Chestnut* Buds (Castanea Vesca), Ash* Buds (Fraxinus exc.), Hazel* Buds (Corylus Avell.), Alcohol* (35%), Water, Vegetable Glycerin * ingredients from certified organic agriculture
Production
From fresh buds collected in the forests or from organic farming.
Characteristics
- Provides a long-lasting relief from cellulitis. (Refer to "
The birch sap slimming program
")
- Has a soft and progressive action.
- Drains toxins and waste matter.
- Relieves water retention.
- Reduces excess weight.
Properties
The HerbalGem/GemmoBase products are concentrated and 50 ml allow for a 70 days cure based on 10 drops per day.
Recommendations for use
Normally your therapist will give you the dosage corresponding to your precise problem.
Standard use and dosages for adults):
Take the drops away from (1/2h before) meals, 2 to 3 times per day, pure or diluted in source water or honey. For an optimum result, put them directly on the tongue and wait for a few seconds before swallowing.
In a general way, in acute phase, take from 2 to 5 drops 3 to 7 times per day. And that during one to maximum three days. If the acute phase is not calmed you probably need another bud.
For a one-time disease which is not in acute phase, take 5 to 15 drops per day until the symptoms disappear and during maximum 3 weeks. It might be advisable to start with 5 drops a day and gradually increase the dosage (1 drop per day) if necessary up to 15 - 20 drops. After having obtained the desired result, keep the same number of drops until the end of the cure. If necessary, after 3 weeks take and a week stopping, you can repeat the treatment during a new phase of three weeks. If such a long treatment does not have the expected result(s) you should better change of bud or remedy.
For a ground treatment (preventive and curative), take 5 to 15 drops per day for 3 weeks in a row followed by a week off and this three times. Then one month off before returning to the same cycle, if necessary.
HerbalGem/GemmoBase products are concentrated and 50 (15) ml allow for a 70 (21) days cure based on 10 drops per day.
Precautions for use
- Keep away from children.
- No specific contra-indication.
- The pregnant lady will take care not to use buds with hormonal action like raspberry, bilberry, giant redwood (or sequoia), oak.
This is a preview of the recently viewed products by the user.
Once the user has seen at least one product this snippet will be visible.
Recently viewed Products