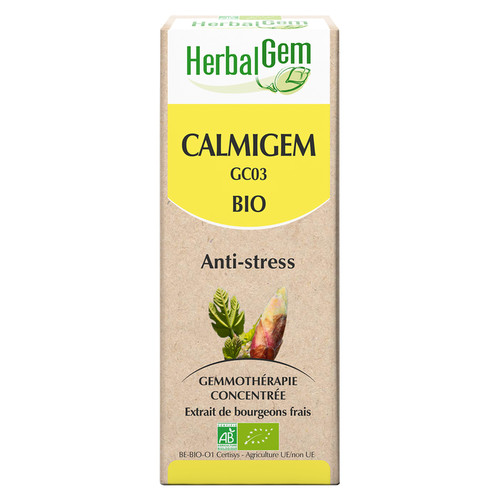 Herbalgem
1
CALMIGEM - GC03 - organic
---
Fabriquant: Herbalgem
Contenu: 50.0
ML
Référence: HE003
---
Win 236 beez by buying this product
CALMIGEM gemmotherapy complex reduces anxiety and stress. It is the Gemmotherapy Rescue Complex.
This concentrated organic herbal remedy for stress problems is an association of two bud extracts ...
Fig tree bud extract - organic is an extraordinary remedy because it acts in depth on our endocrine system contributing thus to the regulation of good number of problems. At the nervous level, its calming action is well known and remarkable. It is an anti-anguish of first order, useful to neutralize the effects of stress, as well internal as external. It acts in any nervous disorder (spasmophilia, epilepsy, facial neuralgia, insomnia,…). At the psychic level, the fig tree macerate has a characteristic action on hormones which form an important regulating system of our body. Active in the brain (cortico-hypothalamic axis), it works in existential depression, neurosensory balance, psychosomatic affections, subjective syndromes… and improves the overall condition. It supports the action of Lime by working on the energy system called "Spleen - Pancreas" in Chinese medicine.
Blackcurrant bud extract - organic , in addition to all its well-known properties enhances the action of the Fig buds and the essential oils.
… and three essential oils working in synergy:
Lavender essential oil - organic oil has an antispasmodic action which is useful in anguish, sleep disorders, nervousness, various cramps. It plays the role of energetic detox at the psychic level. Paracelse already advised it in mental diseases, hysteria, manias. It is indicated in cramps in the solar plexus, calms violent emotions, exerts a sedative action, purifying negative emotions. It brings harmony and balance.
Angelica , ingredient of lots of abbey liquors, is known as a longevity herb similar to ginseng. It is recommended in psychological instability (agitated, hurried up), fear of conflicts, precipitation. It develops interior force and capacity of decision and helps combat emotional instability.
Petitgrain essential oil - organic is mainly known for its hydrosol or floral water of orange flowers. These flowers, traditionally composing the wedding headdress, would have the virtue of alleviating the anxiety of the first wedding night. Neroli, the essential oil of bitter orange, has a deeply relaxing effect which acts as a bumper against energetic shocks. It is the "rescue remedy" of aromatherapy: it acts rapidly in case of psychological shocks, restores self-confidence, calms excessive nervousness, fears, and alleviates palpitations.
Ingredients
Fig* Tree Buds (Ficus Carica), Blackcurrant* Buds (Ribes nigrum), Lavender* Oil (Lavendula Officinalis), Angelic* Oil (Angelica Arch.), Citrus* Oil (Citrus Aur.), Alcohol* (35%), Water, Vegetable Glycerin * ingredients from certified organic agriculture
Production
From fresh buds collected in the forests or from organic farming.
Properties
The rescue complex of gemmotherapy and aromatherapy
Reduces nervousness
Acts against emotional shocks
Combats stress
Recommendations for use
Normally your therapist will give you the dosage corresponding to your precise problem.
Standard use and dosages for adults):
Take the drops away from (1/2h before) meals, 2 to 3 times per day, pure or diluted in source water or honey. For an optimum result, put them directly on the tongue and wait for a few seconds before swallowing.
In a general way, in acute phase, take from 2 to 5 drops 3 to 7 times per day. And that during one to maximum three days. If the acute phase is not calmed you probably need another bud.
For a one-time disease which is not in acute phase, take 5 to 15 drops per day until the symptoms disappear and during maximum 3 weeks. It might be advisable to start with 5 drops a day and gradually increase the dosage (1 drop per day) if necessary up to 15 - 20 drops. After having obtained the desired result, keep the same number of drops until the end of the cure. If necessary, after 3 weeks take and a week stopping, you can repeat the treatment during a new phase of three weeks. If such a long treatment does not have the expected result(s) you should better change of bud or remedy.
For a ground treatment (preventive and curative), take 5 to 15 drops per day for 3 weeks in a row followed by a week off and this three times. Then one month off before returning to the same cycle, if necessary.
HerbalGem/GemmoBase products are concentrated and 50 (15) ml allow for a 70 (21) days cure based on 10 drops per day.
Precautions for use
Keep away from children.
No specific contra-indication.
The pregnant lady will take care not to use buds with hormonal action like raspberry, bilberry, giant redwood (or sequoia), oak.
This is a preview of the recently viewed products by the user.
Once the user has seen at least one product this snippet will be visible.
Recently viewed Products