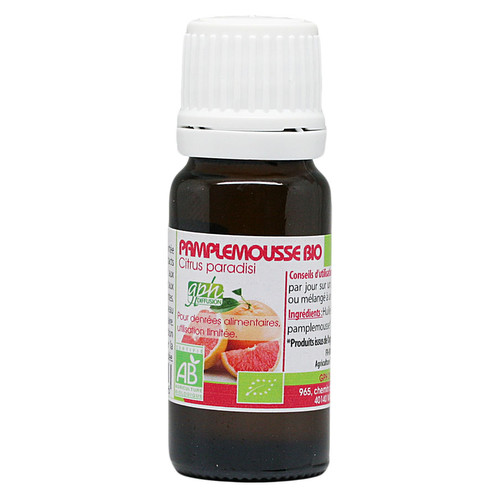 Grapefruit essential oil - organic
1
---
Contenu: 10.0
ML
Référence: GH029
---
Win 46 beez by buying this product
Grapefruit essential oil (actually aan essence) is mainly used in diffusion to clean the atmospher of living spaces. Less is known about its usefulness in mixtures against water retention and cellulite, where it can advantageously replace lemon essence, and its more general circulation revitalizing action. Like many rutaceae essences, grapefruit essence, used internally, is aperitive, digestive, stimulates circulation, drains the body and promotes thinning.
Its psycho-emotional action, less vigorous than that of lemon essence, also promotes joy and good humor but with a nuance of sensitivity and emotion. An essence somehow mildly anti-depressive, very useful in case of illness, especially serious illness.
Culinary this essence can be used successfully to accommodate desserts, herbal teas, fresh sauces.
This "essential oil" is obtained by cold expression (and not by steam distillation) of the outer part of the bark of the fruit and is therefore what some call an essence. The biological quality is absolutely essential for zest essences of rutaceous, because otherwise almost pure pesticide is used.
Latin name
Citrus paradisi
Origin
Argentina
Production
essential oil qualified "100% pure and natural"
Characteristics
Smell: a fresh, powerful, typically citric fragrance, more herbal than orange
Properties
atmospheric antiseptic, respiratory decongestant, expectorant
antiviral, antibacterial
lymphotonic, circulatory, lipolytic, anti-cellulite
aperitive, digestive stimulant
relieves muscle pain
good food flavouring agent: fine and fruity taste very appreciated
soothes or stimulates the nervous system according to the needs and the terrain
positive, invites to "shine" but with sensitivity and delicacy
Traditional use
sanitize the air, disinfect a room
cellulite, water retention, obesity
difficult digestion
muscle stiffness
to accommodate desserts, herbal teas, sauces or oils for fish, meat, vegetables
fatigue, anxiety, stress, doubt, withdrawal, palliative care
Recommendations for use
In diffusion, incorporated in a massage oil, a shampoo or a night cream, applied in pure unction (for example on the inside of the wrists) and then breathed.
Precautions for use
Risk of allergic reaction.
Do not use in pregnant or breastfeeding women, children under 3 years of age, asthmatic subjects or subjects with renal insufficiency
Risk of photosensitivity (Do not apply before sun exposure).
Warning
:
The above information is taken from serious books but should only be considered as preliminary information in a discussion with your doctor or aromatherapist.
The vast majority of essential oils are to be used only diluted in a vegetable oil, honey or other suitable medium respecting the recommended dosages.
When using an essential oil for the first time on the skin, always make a test on the inner sied of the elbow to make sure it does not cause any allergic reaction.
As essential oils are volatile, sensible to UV radiation and inflammable at high temperature, it is imperative to store them in a tightly closed dark glass bottle and at a temperature between 5 °C and 40 °C.
This is a preview of the recently viewed products by the user.
Once the user has seen at least one product this snippet will be visible.
Recently viewed Products