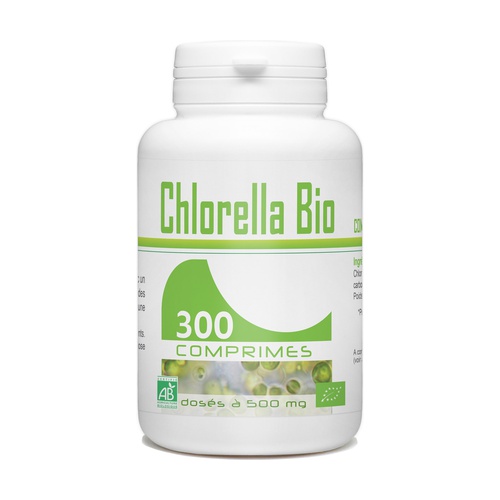 GPH Diffusion
1
Chlorella tablets (500mg) - organic
---
Fabriquant: GPH Diffusion
Contenu: 300.0
TABLET
Référence: GH013
---
Win 223 beez by buying this product
Improves general condition and promotes cell regeneration.
Spirulina and Chlorella belong to a family of tiny organisms, many millions of years old, and generally classified as blue-green algae of fresh water (blue-green for Spirulina and green for Chlorella). Chlorella has a very high chlorophyll concentration (2% to 3%) and contains lots of vegetable proteins (60%) as well as vitamins (A, B, C and E), minerals (iron, phosphor, calcium, magnesium, zinc, potassium, sulphur, manganese) and essential unsaturated fatty acids. All this makes it an excellent food supplement.
Chlorella seems to be an excellent immune system stimulant thanks to its Growth Factor (CGF=Chlorella Growth Factor), a substance which accelerates cell growth and helps maintain the integrity of our cells.
It is also known to help detoxify and revitalize the body. The fibres it contains help to absorb heavy metals and thus enable their elimination.
Latin name
Chlorella vulgaris
Ingredients
Chlorella* (Chlorella vulgaris) in 500mg tablets * from certified organic agriculture
Origin
China
Production
This Chlorella is grown organically on an island in the South China Sea. Laboratory-cultivated batches grow and multiply by photosynthesis in cultivation ponds containing filtered natural water. Once it has reached the required density the Chlorella is harvested. It is dried by a process known as spray evaporation, which retains virtually all the available nutritional value while rendering the product into powder form. Next, the tough cell wall is broken. While this is an aid to detoxification as it binds toxins to it as we digest the Chlorella, it also creates a barrier which reduces the amount of nutrients available from within the cell. In Rainforest Foods chlorella the cell wall is broken using a high impact jet spraying process that maintains the nutritional integrity of the cell contents. This means that the nutrients within the cell are both accessible (thanks to the broken cell walls) and undamaged (by the method used to achieve this). This powder is then pressed into tablets using pressure. No other ingredients are added, the tablets are 100% pure organic Chlorella.
Characteristics
Average data per 100g
energy: 1660kJ / 400kcal
protein: 60.0g
carbohydrates: 23.0g
fat: 6.7g
Properties
The properties are so varied that it is difficult to list them all. In Superfoods For Optimum Health: Chlorella and Spirulina you find a lot of information, but we recommend not to forget the importance of a biological quality and the maximum quantity per day advocated by the producer.
A double-blind test also showed that chlorella has a positive effect on the lives of patients suffering from fibromyalgia, hypertension and ulcerative colitis.
Recommendations for use
3 x 2 tablets per day at mealtime.
Some people may be allergic to chlorella. It is therefore better to begin by eating small amounts and, if well tolerated, gradually increase. For persons with fragile intestines it is better to first restore the intestinal bacterial flora with spirulina and afterwards try carefully chlorella.
Precautions for use
Keep dry at room temperature.
Keep out of reach of young children.
This is a preview of the recently viewed products by the user.
Once the user has seen at least one product this snippet will be visible.
Recently viewed Products