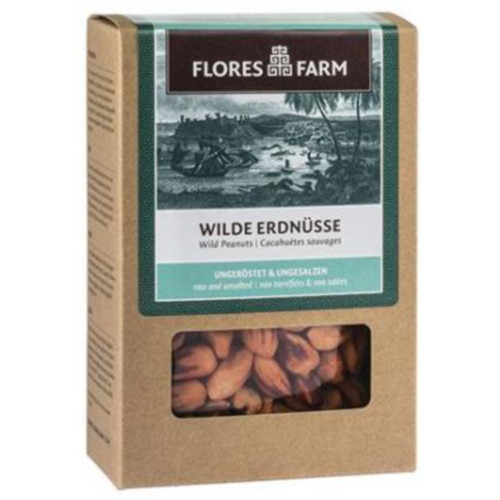 Flores Farm
1
Wild Peanuts - organic
---
Fabriquant: Flores Farm
Contenu: 100.0
G
Référence: FF009
---
Win 28 beez by buying this product
Peanuts, here wild, without pods and of raw quality, ahave a unique flavour and are a very popular snack but they are also precious for health as source of proteins, healthy fats, vitamins (especially B and E) and minerals.
Groundnuts, although less rich in the essential amino acid lysine than the other leguminous vegetables, contain a good proportion of amino acids and healthy fats (mostly mono-and polyunsaturated). They have preventive properties against cardiovascular diseases and type 2 diabetes and are also useful in weight management because, as nuts, during a moderate slimming regime they improve perseverance, allowing increased weight loss compared to a low-fat diet. Peanuts have moreover an antioxidant capacity comparable to broccoli and tomatoes and contain a lot of resveratrol (even larger quantities than red grapes), a naturally antimicrobial antioxidant substance which many studies confirm as being anticancer.
Peanuts are also known as earth-nuts, ground nuts, goober peas, monkey nuts, pygmy nuts and pig nuts,
Latin name
Arachis hypogaea
Ingredients
pod peanuts* * from certified organic agriculture
Origin
Indonesia
Production
Peanuts, corn, nuts, cereals, leguminous vegetables ... may be contaminated with a mouldiness, invisible to the naked eye, which produces a carcinogenic toxin called aflatoxin. To make this mouldiness turn out, both heat and humidity are necessary and therefore it mainly concerns products grown in hot and humid countries. Fortunately European legislation was strengthened in 1999 by lowering permitted aflatoxin levels and since 2003, Europe imposes systematic control of the batches, which must be returned or destroyed in case of non-compliance. Because of this fact the of cultivation- and conservation-conditions in the countries of origin have been greatly improved in order be able to offer quality products henceforth. One of the possible and often used preventive measures is a quick drying of the harvests by roastening.
Characteristics
Nutrional values per 100g
energy: 2614kJ / 631kcal
fat: 51,7g of which saturates: 7,5g
carbohydrates: 12,9g of which sugars: 4,8g
fibre: 6,8g
protein: 25,2g
salt: 0g
Precautions for use
Store in a cool and dry place, in a closed packing.
May contain traces of sesame and nuts.
This is a preview of the recently viewed products by the user.
Once the user has seen at least one product this snippet will be visible.
Recently viewed Products