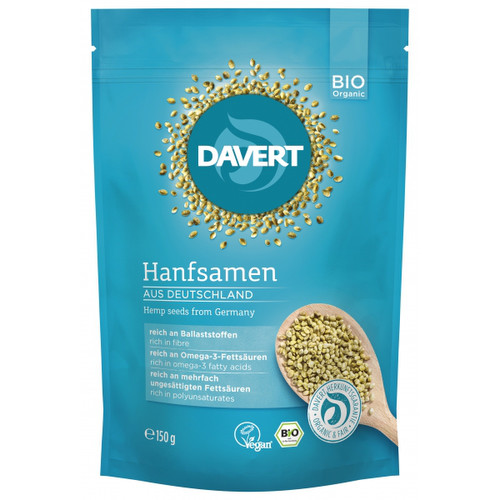 Hemp Seeds - organic
1
---
Contenu: 150.0
G
Référence: DA039
---
Win 33 beez by buying this product
These raw quality hemp seeds taste delicious, slightly nutty otherwise fairly neutral, allowing association with many other dishes. They are a healthy food, rich in proteins and quality fats, vitamins and minerals an a high anti-oxidants rate (ea chlorophyll, tocopherol, tocotrienol).. While whole hemp seeds require good teeth, the peeled quality is very tender, contains only a little less minerals, less fibres (mainly insoluble), but a higher proportion of, still complete, proteins.
Hemp is one of the oldest known medicinal plants and has been used for centuries by a large number of cultures. The hemp seeds recommended as food have no psychoactive effects and no allergy has yet been assigned to them. So hemp seeds can be eaten with confidence by both young and old.
Hemp seeds offer numerous vitamins, minerals, antioxidants, enzymes, interesting lipids and 30% proteins, complete as containing all the amino acids. Moreover these proteins are composed of 65% globular edestin proteins, highly digestible and playing an important role in immune system and muscle recover, and nearly 40% albumin. Edestin and albumin have a molecular structure very close to that of human proteins, which makes them very easy to assimilate. The lipids of hemp seeds are rich in unsaturated fatty acids, with a balanced proportion of 3-1 between the important omega-6 and omega-3 fatty acids. So hemp seeds help maintain joints, muscles, heart, blood vessels, memory, immune system ... in good condition. And, also important, they contribute to the development of the happiness hormone serotonin.
Ingredients
Hemp seeds* * from certified organic agriculture
Origin
Germany
Production
Raw quality Produkt. "Raw quality" food is treated below a maximum of 45°C, because enzymes and healthy nutriments (e.g. a large part of vitamins) are destroyed beyond this temperature.
Characteristics
Nutrional values per 100g
energy: 1965kJ / 477kcal
fat: 34g of which saturates: 3,5g, mono-unsaturates: 4,6g, polyunsaturates: 23g
carbohydrates: 2,2g of which sugars: 2,2g
fibre: 4,2 g
protein: 21g
salt: 0g
Recommendations for use
You can consume them as such or spiced to your convenience.
Hemp seeds are equally delicious in salads, biscuits and mueslis, on bread, toasts, biscuits...., as hemp pesto...
Precautions for use
Store cool and dry, in a closed packing, protected from light.
Possible traces of sesame, nuts and gluten.
This is a preview of the recently viewed products by the user.
Once the user has seen at least one product this snippet will be visible.
Recently viewed Products