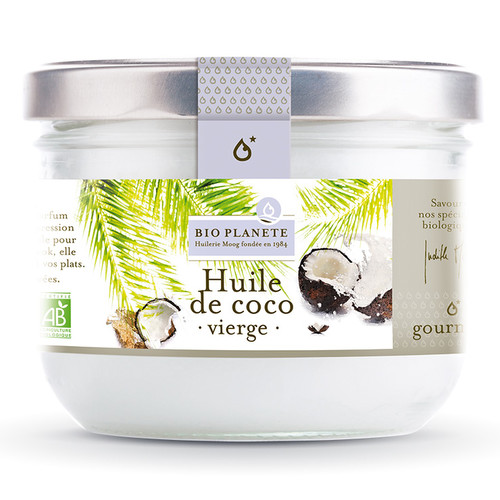 Bioplanète
1
Virgin Coconut Oil - organic
---
Manufacturer : Bioplanète
Content: 400.0
ML
Reference: BP002



---
Win 64 beez by buying this product
Coconut oil, sweet and very fragrant, is widely used in exotic cuisine and also generates a lot of interest for its health virtues because its fatty acids, saturated a long time considered suspicious while saturated not only are harmless for the heart but moreover have proven beneficial for the health in general. The advantage of the raw quality of Virgin Cocos Oil is its exquisite aroma of fresh coconut, long conservation without going rancid and thanks to the cold pressing, all the nutrients of fresh coconut are preserved. It has a higher physiological value and is particularly suitable for food and preparations where the typical aroma of coconut primes. It is called an oil, but exists in a solid consistency below approximately 25°C and as an oil above.
Origin
Philippines
Production
Several times a year, ripe bio coconuts are harvested, from which BIO PLANÈTE's long-standing partner gently presses, directly after harvest, the precious natural coconut oil. To obtain BIO PLANÈTE virgin coconut oil the pulp is first grated into very fine strips then dried at a controlled temperature and given a first cold pressing in a screw press. Native BIO PLANÈTE Coconut Oil is neither refined, nor bleached or hardened.
Characteristics
Nutritional values per 100g
energy: 3367kJ / 819kcal
fat: 91g of which saturates: 86g, mono-unsaturates: 4g, polyunsaturates: 1g
carbohydrates: 0g
protein: 0g
salt: 0g
Virgin coconut oil solidifies at an ambient temperature of 25 °C and liquefies as soon as it is heated.
Properties
The post "28 Science-Backed Health Benefits of Coconut Oil" written by Helen Nichols will give you enough to think about.
Another source of great ideas on how to use coconut oil is Balance me beautiful post "The Ultimate Guide to Scientifically-Backed Coconut Oil Uses".
Jen's post "7 Health Benefits of Coconut Oil According to Science (and 4 Delicious Recipes)" is also worth looking at.
Recommendations for use
The coconut oil is not liquid under 25 ° C, to liquefy it warm it in a bain-marie.
Precautions for use
Virgin coconut oil can withstand high temperatures but should not smoke (around 190 ° C).
Store at room temperature and away from light.
This is a preview of the recently viewed products by the user.
Once the user has seen at least one product this snippet will be visible.
Recently viewed Products