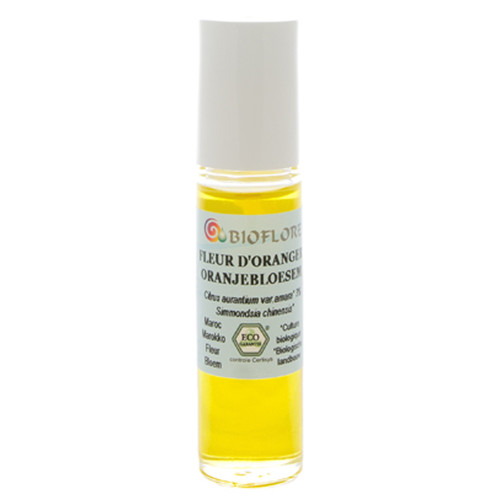 Bioflore
1
Roll-on bitter orange blossom - organic
---
Fabriquant: Bioflore
Contenu: 10.0
ML
Référence: BF093
---
Win 70 beez by buying this product
The essential oil of bitter orange blossom, or Neroli Bigarade, is psycho-emotionally remarkably useful (emotional shocks) and its dilution in the ball applicator Roll-on bitter orange blossom is particularly practical and advantageous.
Roll-on bottle of 10 ml for cutaneous use.
Ingredients
virgin jojoba oil* from first cold pressing, essential oil of orange blossom*(Citrus aurantium var. amara)(3% ) * ingredients from certified organic agriculture
Production
The distillation efficiency of flowers is often low and this also applies to the flowers of the bitter orange tree, from where the high price of the essential oil of Neroli bigarade (produced in Morocco in this case).
Characteristics
Essential oils extracted from flowers have a complex biochemistry and this is also the case for neroli. In neroli essential oil monoterpenols (under which linalool) dominate but all other families are also found in significant quantities and varieties. Its properties concerning the nervous system are close to those of Petitgrain essential oil, extracted by distillation of the leaves of the same tree, the bitter orange tree. While the high price of neroli essential oil limits its use for its anti-infective properties, this disadvantage is minimized by its intense effect on the olfactory sense that enhances the impact on the autonomic nervous system.
Neroli essential oil acts as a powerful tranquilizer of the sympathetic activity, as an anti-stress (marked action on heart rate by decrease of the contractions-amplitude and on tension by hypotensive effect) and as an anti-depressant reloading the nervous system of those who worry about little things.
Neroli essential oil is therefore a remedy for emotional shocks that hurt the heart. On psychoemotional level it transmits a capacity for elevation, for valorization of what is beautiful and good at each meeting, an elevation which is neither naive nor disembodied in the sense that it brings neither to ignore or forget about shadows, but to integrate and go beyond them. Neroli helps to recognize and defuse the grudges and sorrows of the past, lived in childhood or adulthood and constantly rehashing. It is in this sense that neroli can be called neurotonic.
Properties
Emotional impact: helps to
develop a strong self-esteem
promote openness to others
become aware of ones value
comfort the heart
free oneself from resentment, regrets and mental macerations
Recommendations for use
Apply the oleoparfum on the inner sides of the wrists, rub these against each other, carry them up to the nostrils and inspire several times deeply the aroma. Later the roll-on can be applied to other points of entry: inside of the elbows, solar plexus, neck, soles of the feet.
This is a preview of the recently viewed products by the user.
Once the user has seen at least one product this snippet will be visible.
Recently viewed Products