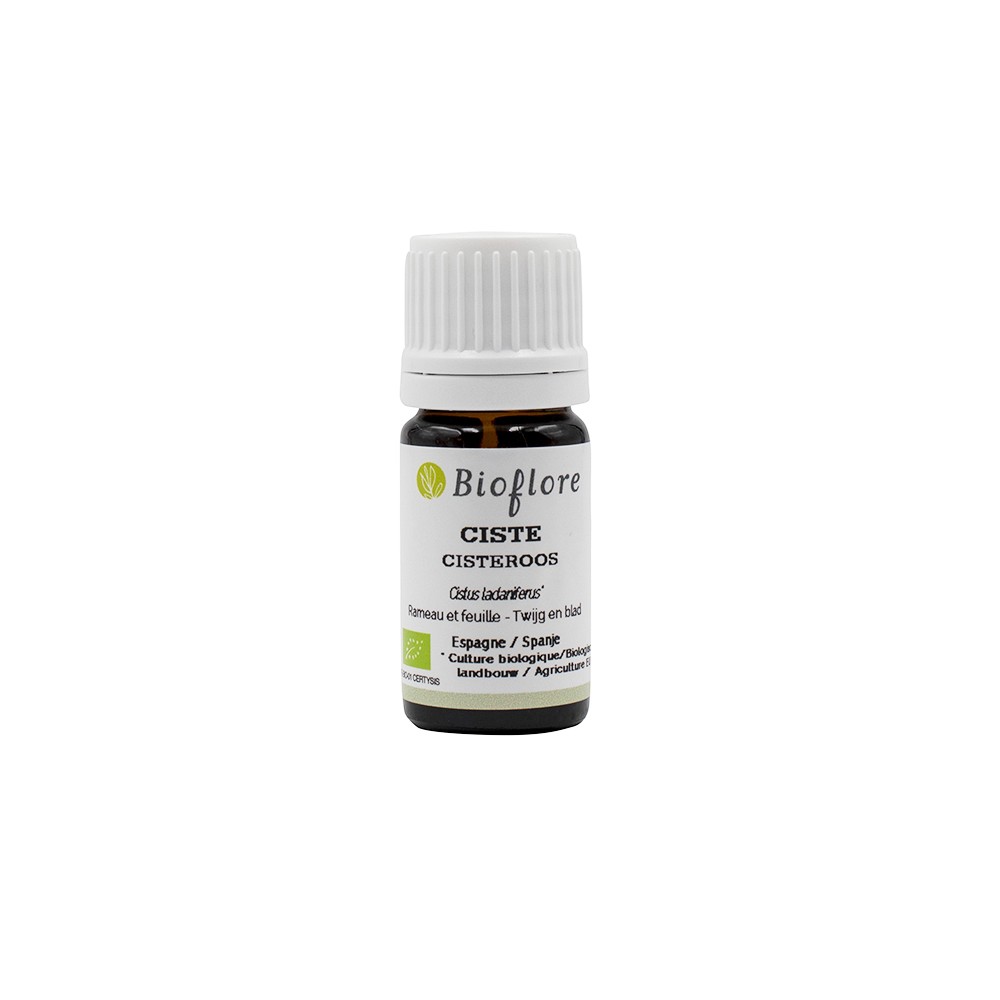 Bioflore
1
Cistus (Rock rose) essential oil - organic
---
Fabriquant: Bioflore
Contenu: 10.0
ML
Référence: BF081
---
Win 232 beez by buying this product
Ciste essential oil has a surprisingly complex composition, almost all families of aromatic molecules are represented, and its applications in therapeutics, and especially in cosmetics, are wonderful.
Incorporating a small quantity of it in a base cream, provides an excellent astringent and anti-wrinkle product for loose or mature skin. And its reputed haemostatic and healing power is particularly indicated for damaged skin or skin suffering from microcirculation problems (couperose).
Medicinally, it heals benign wounds and pimples, in combination, it helps fight autoimmune diseases and in particular inflammations of the digestive tract. Research is being conducted at the highest scientific level for its actions on autoimmune diseases, which are more and more numerous today.
Psycho-emotionally, its powerful, balsamic and amber aroma, stubborning in first instance, but evolving over the perception, provides a warm wrap that does not take long to also win the soul.
Latin name
Cistus ladaniferus
Origin
Spain
Production
essential oil qualified "100% pure and natural"
Characteristics
Intense, amber, balsamic aroma, with spicy and woody notes
Properties
astringent and haemostatic
wond healing
anti-viral and immunomodulating
neurotonic and regulating parasympathetic nervous system
emotional comfort, support
Traditional use
skin aging, wrinkles
haemorrhage (ulcerative colitis, Crohn's disease, anal fissure), nosebleeds (epistaxis), wounds, acne, rosacea
autoimmune and viral diseases (rheumatoid arthritis, multiple sclerosis, chicken pox, measles)
insomnia, frigidity, amnesia
Recommendations for use
External use:
small wounds, cuts, pimples: a few drops on a cotton applied for several hours on the zone
nosebleed: 1 drop on cotton in the nostril
aging and loose skin, wrinkles: 1 to 3% essential oil in a Crème/Fluide
viral and immune pathologies: 3 drops + 3 drops of Huiles végétales along the spine (consult a specialist)
Internal use:
1 to 2 drops three to four times a day on medical advice (infections, diarrhea, intestinal spasms, nervous tension,...)
Precautions for use
For internal use, it is imperative to consult a doctor because the dose varies depending on the pathology, also for use in children.
Not recommended for pregnant or breastfeeding women.
If you have a medication with anticoagulants, consult your therapist.
Warning
:
The above information is taken from serious books but should only be considered as preliminary information in a discussion with your doctor or aromatherapist.
The vast majority of essential oils are to be used only diluted in a vegetable oil, honey or other suitable medium respecting the recommended dosages.
When using an essential oil for the first time on the skin, always make a test on the inner sied of the elbow to make sure it does not cause any allergic reaction.
As essential oils are volatile, sensible to UV radiation and inflammable at high temperature, it is imperative to store them in a tightly closed dark glass bottle and at a temperature between 5 °C and 40 °C.
This is a preview of the recently viewed products by the user.
Once the user has seen at least one product this snippet will be visible.
Recently viewed Products