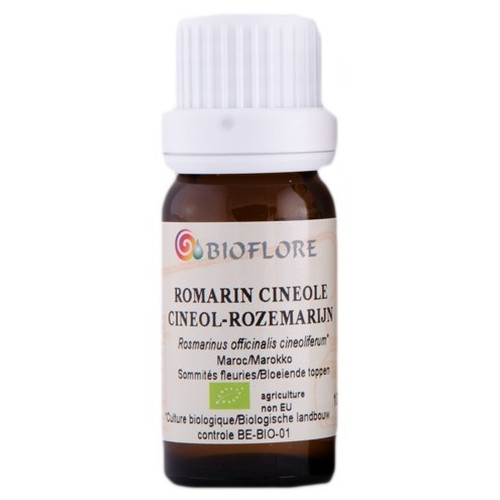 Bioflore
1
Rosemary cineol essential oil - organic
---
Fabriquant: Bioflore
Contenu: 10.0
ML
Référence: BF074
---
Win 37 beez by buying this product
Rosemary cineol type provides an essential oil similar to Eucalyptus radiata essential oil - organic and Ravintsara essential oil - organic . It is thus used for the same indications and is combined with one or the other to get a better synergistic effect.
Latin name
Rosmarinus officinalis cineoliferum
Origin
Morocco
Production
- 100% pure and natural
- from certified organic farming
Characteristics
fresh, penetrating, aerial, camphory aroma
Properties
- Anticatarrhal, expectorant, mucolytic.
- Effective fungicide.
- Average antibacterial.
Traditional use
- respiratory tract Infections with mucosal congestion: sinusitis, bronchial catarrh, pulmonary congestion.
- Cystitis and candidiasis.
- Dyspepsia, enterocolitis.
- Chronic fatigue.
Recommendations for use
- Internal use: 2 drops of essential oil, 3 times a day, in honey, olive oil or on a lump of cane sugar under the tongue for all indications mentioned.
- External use: 3 drops of essential oil and 3 drops hazelnut virgin oil, 3 times a day, rubbed on the chest or solar plexus depending on the ailment.
- Pour 10 drops of Rosemary CT cineole and 30 ml of virgin hazelnut oil in a 30 ml dropper bottle. You will obtain nasal drops effective against colds and other chills.
Precautions for use
- Do not use in the first 3 months of pregnancy.
- Skin irritation (dermocaustic) possible if used pure.
Warning
: the above information is taken from serious books but should only be considered as preliminary information in a discussion with your doctor or aromatherapist.
This is a preview of the recently viewed products by the user.
Once the user has seen at least one product this snippet will be visible.
Recently viewed Products