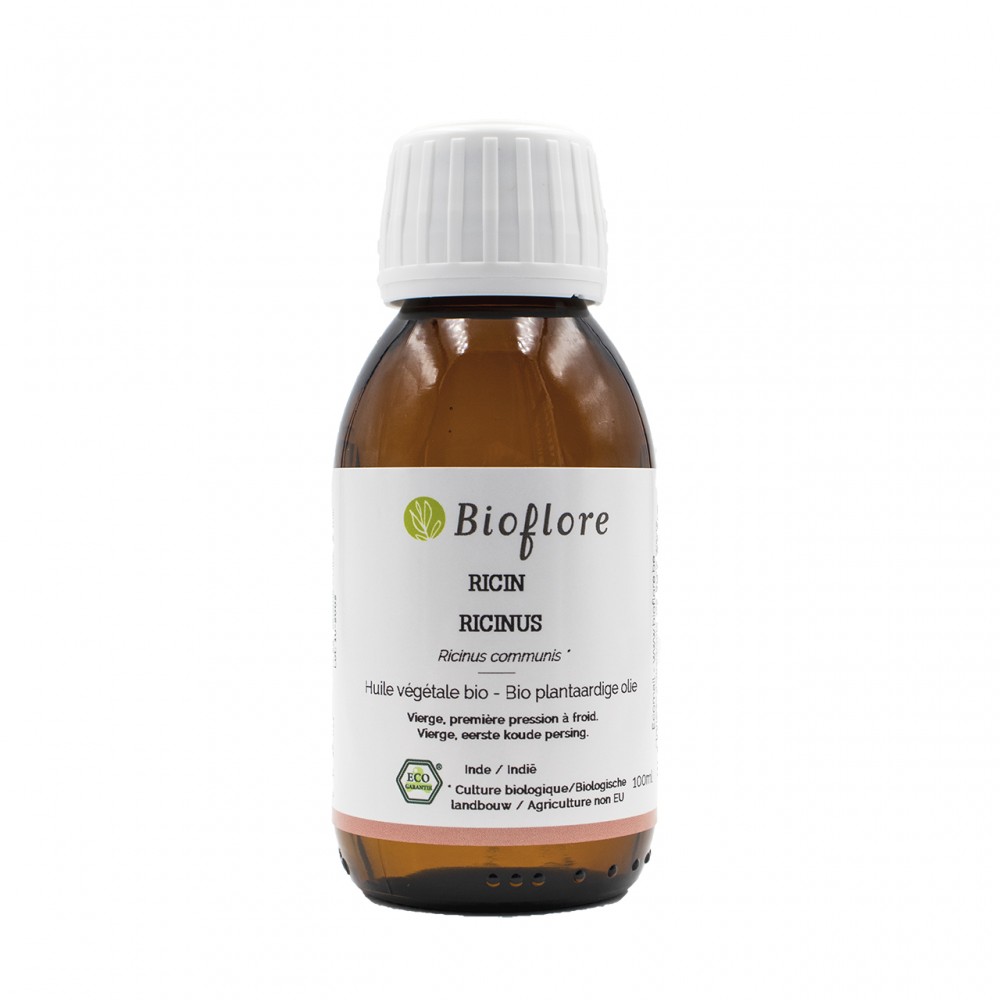 Castor oil - organic
1
---
Contenu: 100.0
ML
Référence: BF064
---
Win 59 beez by buying this product
Castor oil has been used for thousands of years and has, especially for external use, many health and cosmetics properties thanks to its beneficent action on blood and lymphatic circulation, immune system, elimination functions and functions of liver and digestive tract, tissues and organs. For those who already use Argile : roughly the same indications are valid.
Nowadays castor oil is not anymore so much recommended for internal use, except under medical supervision, as a purge in case of poisoning, or for its laxative effect. But it proved to be very beneficial to health in external use on the skin and was, for example, a cure for all use of Edgar Cayce. Castor oil is a slightly viscous fatty oil rich in ricinoleic acid (with laxative, antibacterial and anti-inflammatory properties) and vitamin E, with an amazing ability to penetrate tissue and an extraordinary bioenergetic power, stimulating lots of biological processes (among which production of T and B lymphocytes, of prostaglandins). It is particularly suitable in situations where there is accumulation, hardening, sclerosis or crystallization of tissues. In massage it has a calming effect for muscle pain or spasms, relieves stretch marks.
Soothing, protective, nourishing, moisturising, emollient, regenerator of the epidermis, excellent ally in the fight against skin aging and pigmentation marks, repairing damaged skin from cracking or fissures, castor oil is also very popular in cosmetics. It can also be used as make-up remover for face and eyes, and is also known to strengthen and regenerate eyelashes, eyebrows, hair, nails, and accelerate their growth.
Castor oil ,as it is partially soluble in water, can also be used as an emulsifier for essential oils. As diluting oil for essential oils it helps to maximize their therapeutic potential due to its high penetrating power.
>Castor oil is also called Palma Christe or ricinus oil.
Latin name
Ricinus communis - oleum
Ingredients
first cold pressing Castor oil* * ingredients from certified organic agriculture
Characteristics
The castor bean, from which castor oil comes. contains toxic substances (a very dangerous lectin (ricin) and the alkaloid ricinine) but that these are not liposoluble and therefore are not present in the oil.
Properties
penetrating, regenerating, restorative, nourishing, moisturizing, anti-aging for skin and skin outgrowths, promotes the growth of eyelashes and hair, fortifies the nails
softening, emollient
antibacterial
anti-inflammatory, calms muscle contractures and pains
good emulsifier for essential oils and potentialises as dilution oil the therapeutic properties of essential oils
laxative if internally used
Traditional use
Some examples:
loss of hair, eyelashes, damaged and dry hair
fragile nails, nail care
fragile or problem skin (pimples, imperfections, skin marks, cracking), dry skin, age spots
accumulation, hardening, sclerosis or crystallization of tissues, cracks, crevices
cutaneous applications of essential oils
Recommendations for use
NOTICE OF A SATISFIED USER:
Internal use:
The laxative effect is achieved with 1 teaspoonful, "drastic" purgative effect with 1 to 2 tablespoons, but this use is not advisable because too violent.
For a good detoxification of the body (to do 3 weeks every 6 months): every morning on empty stomach, drink 1 glass of warm pure water, then take a teaspoon of castor oil (effect similar to clay water).
Mouth ulcers, inflamed tonsils: a few drops directly on them
Edema: poultices and 1/2 teaspoon internally in the morning on empty stomach for 5 days a week
External use:
Obesity, overweight, cellulite: massage with a mixture of castor oil (2 parts) and sweet almond oil (8 parts)
Anti-wrinkles: use castor oil as a night cream
Relieving skin conditions (dryness, redness, acne, dermatitis, inflammation): apply lukewarm oil as needed
Haemorrhoids: apply the oil at least 3 times daily and after using the toilet (possibly you can add each time 1 drop of " Sang pur sang " to further improve the blood circulation, and think to take care of the liver, its overload often being in question in these problems).
Pigmentation stains: combine castor oil with essential oils of lovage and celery.
Strengthen fragile, dry, vitality lacking, forked, brittle hair and promote its regrowth: apply castor oil from the scalp to the hair ends, cover with a towel and let rest overnight before to wash your hair.
Promote the growth of eyelashes and eyebrows: apply castor oil every night using a mascara brush or diluted with ' jojoba oil , with a cotton swab.
Promote the growth of nails and protect them: put a mini droplet on the base of each nail and massage well (penetrates quickly without leaking or greasing)
Horn of feet: massage with warm castor oil every day or as needed.
Heloses, onions: apply castor oil on the feet.
Warts: apply a wad of cotton wool soaked in castor oil mixed with bicarbonate de soude to the wart, hold in place with adhesive tape and repeat 2-3 times per day until disappearance.
Plantar warts: apply a piece of wool impregnated with castor oil mixed with bicarbonate de soude to the wart, hold in place with adhesive tape, make this for several nights until disappearance.
Cysts or excrescences: massage with warm castor oil for 5 minutes every day until disappearing, or apply poultices
Insect bites, blisters, scabs after wounds, erythema, prevention of pressure ulcers and (with poultices) bedsores: coat with castor oil.
Muscle, joint or arthritic pain, stiffness of the muscles: relief by massage with warm castor oil.
Bursitis, epicondylitis, tendonitis: hot poultice every night.
Accidental swelling (sprain, strain ...): warm poultice during one or more consecutive nights.
For a bath with essential oils: pour the equivalent of 2 tablespoons of castor oil in a glass, add the desired dose of essential oils (usually a dozen drops), mix well and pour in the bath water.
Cataplasms (c.), or poultice, with application of warmth for 1h to 1h30 or over night, 3 times a week on the affection or facing the organ: adhesions, lymphatic nodules, rectal fistulas or fissures, perirectal abscess , hemmorroids (c. on rectum and liver), chronic constipation (c. on liver and colon), hepatobiliary problems, cholecystitis (c. on gallbladder), kidney problems (c. at the level of the kidneys), scleroderma (c.on solar plexus), irregular or painful menstruation (c. on ovaries but not during menstruation), tumor mass, breast and ovarian cysts, vaginal fistulas, vaginitis, endometriosis, menopausal syndrome (c.on belly), muscle contractions and spasms, myositis and abscesses, incoordination of the nervous system or between assimilation and elimination (c. on liver, solar plexus, intestine and colon, hyperactive children (c. on the solar plexus and belly), insomnia (c.on the solar plexus and cotton wool soaked in oil in the ears).
Cataplasms with warmth applied for 1h to 1h30, 3 times a week on the stomach for colitis and diarrhea.
CATAPLASME: soak a flannel in previously warmed castor oil, place it on the part to be treated, cover with a plastic sheet and put a warm water bottle on it. When the poultice is removed wash the skin with a solution of
bicarbonate de soude
(about 1 tablespoon per half liter). The poultice can be kept in a sealed container in the refrigerator and re-used 5 times by adding oil if necessary.
Precautions for use
A too big doses of castor oil for internal use dose may prove dangerous because of its too brutal purgative effect. Some people advise against the internal use of castor oil in cases of inflammatory bowel disease, constipation or abdominal pain due to an obstruction of the digestive tract (intestinal stricture, fecal impaction), for children under 12 years and during pregnancy and lactation.
This is a preview of the recently viewed products by the user.
Once the user has seen at least one product this snippet will be visible.
Recently viewed Products