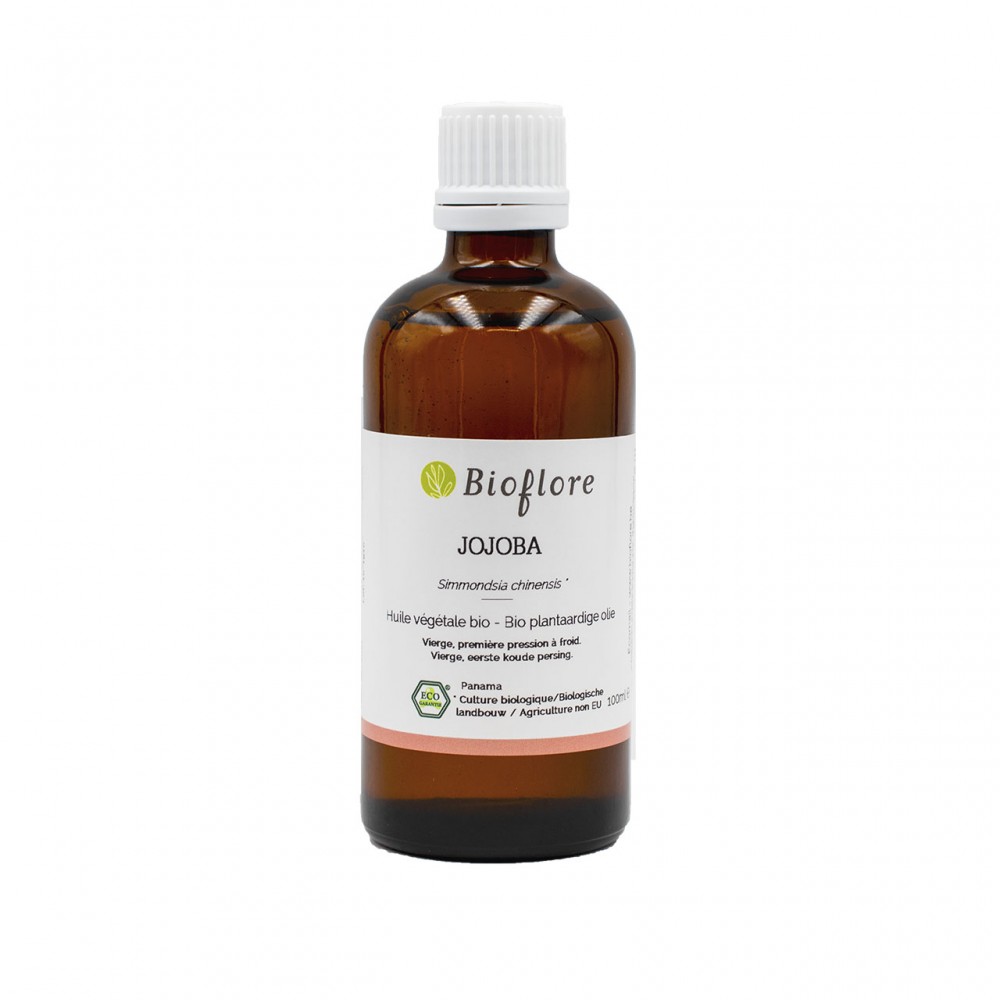 Bioflore
1
Jojoba oil - organic
---
Fabriquant: Bioflore
Contenu: 100.0
ML
Référence: BF057
---
Win 91 beez by buying this product
Extracted from the fruits of Simmondsia chinensis, a shrub native to the arid desert regions of Mexico and Arizona, this first cold pressing oil is rich in unsaponifiables. Known for centuries, it is used by the Indians as anti-desiccant and anti-wrinkle protection.
Calming and softening, this "vegetable wax" is remarkably compatible with the skin because its property, unique in the vegetable world, to have characteristics close those of the human sebum. It also excels in hair care and in the fight against acne.


Latin name
Simmondsia chinensis


Ingredients
(INCI): Simmondsia Chinensis seed oil* * ingredients from certified organic agriculture


Origin
Peru


Production
- Virgin oil from first cold pressing
- From certified organic agriculture


Characteristics
Fluid, golden yellow colour, slightly nutty smell, non-greasy touch.


Properties
- External use: penetrating, regulates sebum production, nourishing, protective, anti-aging, anti-wrinkle, anti-UV (protection about 4 or 5), anti-seborrhea, softening, soothing, calming, moisturising, revitalizing, hair shine and suppleness.


Traditional use
- External use: perfect vehicle for aromatherapy because of its extraordinary ability to penetrate the skin. Ideal for sensitive, dry and acneic skin, including baby's skin. Applied on acneic lesion, it regulates the secretion of sebum and so tends to fight acne.
- Hair: excellent hair care. It feeds, softens and strengthens them and makes them shine. It effectively treats seborrheic hypersecretion and dandruff.


Recommendations for use
° External use:
. Skin: for massage and local skinapplications, use the oil pure or mixed with other vegetable oils or with 1% to 3% essential oil according to the sought properties or.
. Hairmask: apply once a week Jojoba oil on dry hair, put long hair up to soak the ends, wrap the hair in an old warm towel (for more effective performance), leave on for 30 minutes and finish with a shampoo.
. Hairshampoo: add 6 to 8 drops of Jojoba oil in your shampoo, wait for 3 minutes and then apply on your hair. Leave for a few minutes before rinsing.
° Internal use: not applicable.



Precautions for use
- Store in a cool place away from light.
- Do not ingest orally because it is difficult to digest.
This is a preview of the recently viewed products by the user.
Once the user has seen at least one product this snippet will be visible.
Recently viewed Products