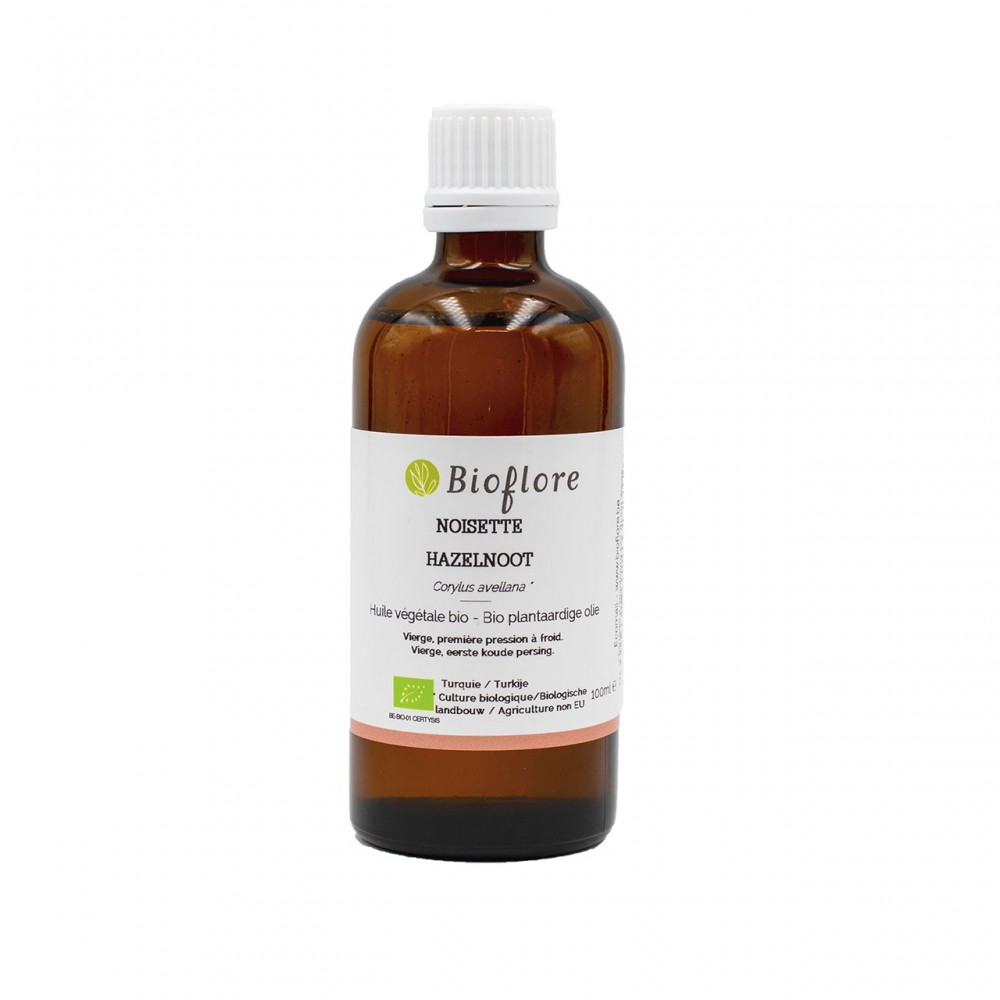 Hazelnut oil - organic
1
---
Contenu: 100.0
ML
Référence: BF048
---
Win 97 beez by buying this product
This hazelnut oil, organic virgin cold-pressed, vegetable oil is close to the
Sweet Almond oil - organic
but has a higher diffusion and penetration capacity, which makes it an excellent base for diluting essential oils. Its very pleasant little fatty touch ans its light hazelnut perfume make it a very appreciated base for care, massages, oil perfumes, solar products.
The high oleic acid level of hazelnut oil gives it remarkable soothing properties and it is also known to regulate sebum secretion, thus useful as well for dry as for mixed to fat and acneic skin. It is also effective to restore the hair's tonicity and sanitize the scalp. Slightly astringent and acting on the elasticity of the skin, it is recommended to fight scars and stretch marks (preventive and curative).
Hazelnut oil is also a very appreciated food-oil, which has to be consumed regularly in small quantities, to enjoy its benefits. It is recommended for convalescents, for growing children, helps lower blood pressure, has vermifuge (anthelmintic) and anti-anemia properties, helps fighting frigidity and impotence.
Latin name
Corylus avellana
Characteristics
Odor characteristic of hazelnut, penetrates quickly without leaving fatty film
Properties
- fast and in-depth penetration, not leaving a fatty film
- regulation of the sebumsecretion
- regulates sebum excess, fights blackheads and tightens pores of fatty skin
- treats irritations of dry and sensitive skin and gives it suppleness and elasticity
- attenuates strongly cutaneous rednesses and irritations
- invigorates the hair and cleanses the scalp
- internally it supports convalescence, growth, helps reduce blood pressure, fight anemia, frigidity and impotence, has deworming (vermifuge) properties
Traditional use
- dry, sensible, mixed to fat and acneic skin
- cutaneous rednesses and irritations
Recommendations for use
° External use:
. Skin: for massage and local skinapplications, use the oil pure or mixed with other vegetable oils or with 1% to 3% essential oil according to the sought properties or.
. Hairmask: apply once a week Hazelnut oil on dry hair, put long hair up to soak the ends, wrap the hair in an old warm towel (for more effective performance), leave on for 30 minutes and finish with a shampoo.
. Hairshampoo: add 6 to 8 drops of Hazelnut oil in your shampoo, wait for 3 minutes and then apply on your hair. Leave for a few minutes before rinsing.
° Internal use: consumed regularly in small quantities
Precautions for use
- Store in a dry place, away from heat and light.
- As it is a substance which grows easily rancid , it is better to buy it in small quantity packages.
- It has poor resistance to heat and should therefore be used cold and not be used for cooking.
- Hazelnut oil can cause allergies especially to people who are sensitive to nuts. It is therefore imperative to make preliminary an application test in the fold of the elbow.
This is a preview of the recently viewed products by the user.
Once the user has seen at least one product this snippet will be visible.
Recently viewed Products