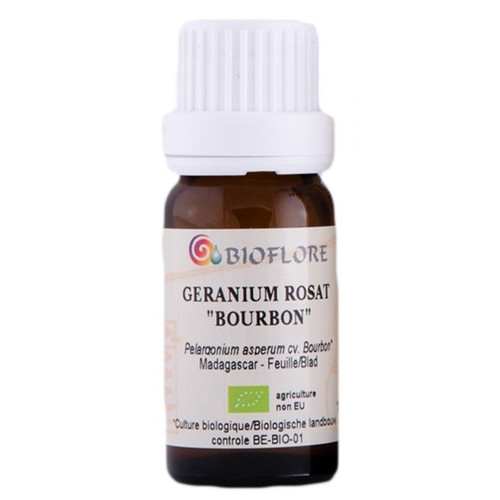 Bioflore
1
Geranium essential oil - organic
---
Fabriquant: Bioflore
Contenu: 10.0
ML
Référence: BF031
---
Win 95 beez by buying this product
Organic Geranium Oil has effective antibacterial properties. Moreover it analgesic, anti-inflammatory, anti-fungal, haemostatic and a skin tonic that is very appreciated for its softness, its perfume and its restorative, astringent and woundhealing properties. It keeps insects away and its association with lemon eucalyptus helps regulate the pancreatic function. Through its nervous system harmonising action , it can dynamise a nervous, asthenic and anxious temperament whilst leaving a feeling of inner peace.
Psycho-emotional geranium essential oil works gently and subtly and manages to erase the excesses of any character.
Of the 500 species of geranium, only a few are used in aromatherapy. The soft and sweet or stronger scents of some species justify their very frequent use in perfumery and cosmetology. The chemical analysis of the essential oil of Bourbon geranium rosat reveals a very large number of constituents that make it a super-geranium.
Latin name
Pelargonium Asperum cv. Bourbon
Origin
Madagascar
Production
essential oil qualified "100% pure and natural"
Properties
antibactérienne efficace
fongicide puissante
hémostatique remarquable
antalgique
anti-inflammatoire
tonique astringente cutanée
Traditional use
Acne, burns, eczema, wounds, impetigo
Skin and gynecological Mycosis
Rheumatism, arthritis, tendinitis
Epistaxis (nosebleed), bloody cuts
Red face blotches (rosacea), hemorrhoid, phlebitis
Stress, asthenia, anxiety
Recommendations for use
Internal use: 2 drops of essential oil in virgin olive oil, 3 times a day,for inflammatory and nerve diseases.
External use:
2 drops of essential oil and 2 drops hazelnut virgin oil on the area to anoint locally for several weeks against mycosis and for cosmetic and dermatologic purposes
2 drops of Geranium essential oil and 2 drops of Cistus ladaniferus essential oil on a cotton wick to be introduced into the nostril quickly stop a nosebleed for adults
Precautions for use
Not recommended during the first 3 months of pregnancy
Warning
:
The above information is taken from serious books but should only be considered as preliminary information in a discussion with your doctor or aromatherapist.
The vast majority of essential oils are to be used only diluted in a vegetable oil, honey or other suitable medium respecting the recommended dosages.
When using an essential oil for the first time on the skin, always make a test on the inner sied of the elbow to make sure it does not cause any allergic reaction.
As essential oils are volatile, sensible to UV radiation and inflammable at high temperature, it is imperative to store them in a tightly closed dark glass bottle and at a temperature between 5 °C and 40 °C.
This is a preview of the recently viewed products by the user.
Once the user has seen at least one product this snippet will be visible.
Recently viewed Products