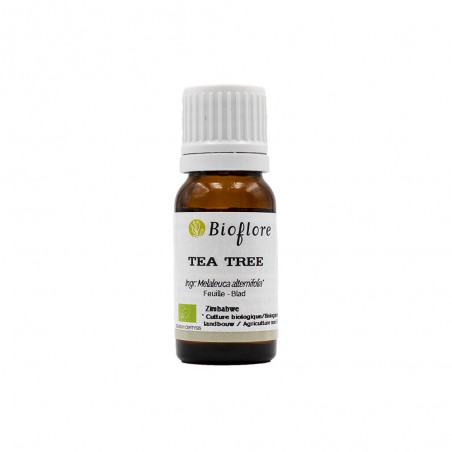 Tea tree essential oil - organic
1
---
Contenu: 10.0
ML
Référence: BF030
---
Win 47 beez by buying this product
Tea tree essential oil is found in a very large number of body hygiene products (soap, shampoo, bath oil), cosmetics, and therapeutic products, also in food use.
Tea tree is well known for its purifying action. Its essential oil is a powerful broad-spectrum antibacterial and also has antifungal and anti-inflammatory properties. It offers not only an ideal protection of the skin (also before radiotherapy sessions) but its deep action allows it to sustainably correct many skin dysfunctions. This oil is also recommended for diffusion during the winter, because it strengthens the resistance of the body (immunostimulant action).
At psycho-emotional level tea tree essential oi is useful to restore the balance, dispelling mental confusion and combating nervous exhaustion. 4 to 5 drops in a dose of neutral shower gel provide a good start to the day.
Tea tree essential oil is also effective for getting away many insects and parasites.
Latin name
Melaleuca alternifolia
Origin
South Africa
Production
essential oil qualified "100% pure and natural"
Characteristics
Scent: warm, cool, powerful. Its action is largely due to its monoterpenols (of which terpinene-4-ol, alpha-terpineol in majority). Monoterpenols are known to strengthen the immune system, have fungicidal, antibacterial and antiviral properties, and a balancing and harmonizing, general tonic effect. They are well tolerated (except menthol (in mints)) and are well indicated for long-term treatments and chronic diseases.
Properties
Broad spectrum powerful antibacterial
Fungicide
Parasiticide
Antiviral and immune stimulant
Protecting skin during radiotherapy.
Traditional use
Prevention of radiation skin burn
Oral infections (ulceration, stomatitis, abscess, gingivitis)
Urinary tract and gynecologic infections
Skin, nail and subungual fungus
Skin parasites (scabies, ringworm ...) or intestinal parasites (lamblia, Ascaris ...)
Bacterial or viral infection of the upper and lower respiratory tract (sinusitis, rhinitis, otitis, laryngitis, pharyngitis, bronchitis)
Lymphedema
Varicose veins, heavy legs, hemorrhoids
Recommendations for use
Internal use: 3 drops of essential oil in olive oil for 5 to 7 days.
External use: 3 to 4 drops of essential oil massaged into the skin on or near the concerned area, repeated 3 times per day for 5-6 days.
Diffusion: mixed with other oils for the prevention of colds and respiratory infections.
Perfect hygiene with teeth whitening: pour 1 drop of tea tree essential oil and 1 drop of lemon essential oil on the toothbrush before the toothpaste and then brush your teeth (every day).
Foot and nail care: apply locally, e.g. after swimming, diluted in a base oil or neutral cream.
For a foot or nail bath: use 10 to 15 drops per soup spoon of oil or cream.
Teenage acne and pimples: use 10 drops per soup spoon of neutral (i.e. non-greasy) cream - apply nightly to problem areas.
Precautions for use
Do not use during pregnancy and breastfeeding.
Not recommended for children under 3 years .
Warning
:
The above information is taken from serious books but should only be considered as preliminary information in a discussion with your doctor or aromatherapist.
The vast majority of essential oils are to be used only diluted in a vegetable oil, honey or other suitable medium respecting the recommended dosages.
When using an essential oil for the first time on the skin, always make a test on the inner sied of the elbow to make sure it does not cause any allergic reaction.
As essential oils are volatile, sensible to UV radiation and inflammable at high temperature, it is imperative to store them in a tightly closed dark glass bottle and at a temperature between 5 °C and 40 °C.
This is a preview of the recently viewed products by the user.
Once the user has seen at least one product this snippet will be visible.
Recently viewed Products