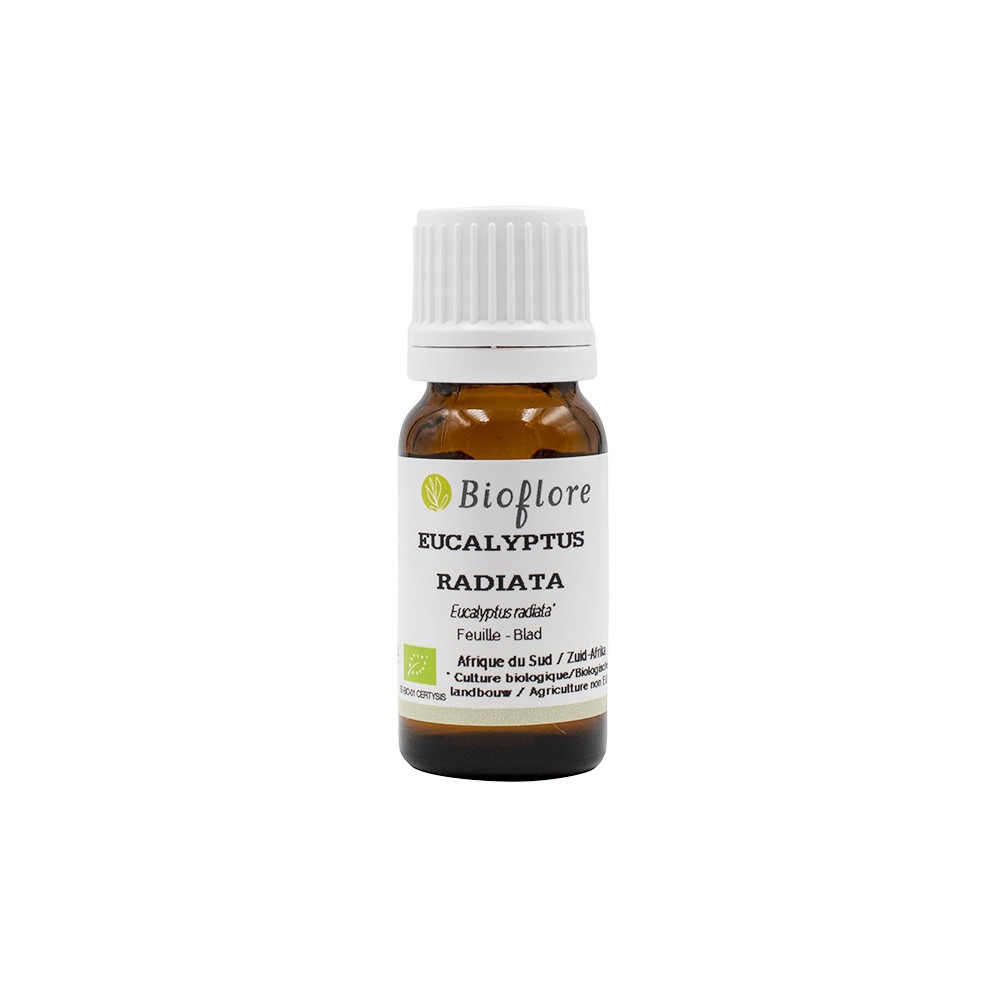 Eucalyptus radiata essential oil - organic
1
---
Contenu: 10.0
ML
Référence: BF022
---
Win 46 beez by buying this product
Because of its softness, its harmlessness and its marked affinity for the ear, nose and throat sphere Eucalyptus Radiata essential oil is used in a targeted way to fight against the upper respiratory diseases: rhinitis, sinusitis, otitis. It is a wonderful respiratory decongestant and expectorant and its antiviral properties also make it a valuable ally to counter flus and other viral infections. It is a remedy of choice in vapour form, alone or mixed and its excellent skin tolerability allows its use for friction and massage, both as well for adults as for children.
Its neurotonic properties are chiefly orientated to the mental plan and promote mental acuity and memory.
The Eucalyptus radiata, also named Blue Gum Eucalyptus, Eucalyptus Australiana or Eucalyptus officinalis, belongs to the big aromatic Myrtaceae family and is, due to its popularity, often considered the king of the eucalyptuses. However it may be useful not to cling to one unique care. For respiratory diseases one will be able to vary with Eucalyptus globulus essential oil - organic , Smith's Eucalyptus, Niaouli essential oil - organic , Wild Marjoram essential oil - organic … essential oils. On the psycho-emotional level Rosemary cineol essential oil - organic is very close to it.
Latin name
Eucalyptus radiata
Origin
Australia
Production
essential oil qualified "100% pure and natural"
Characteristics
Pleasant, soft and fresh smell, oil mainly composed of eucalyptol (1,8-cineole).
Properties
antiviral, antibacterial
powerful nasal and respiratory decongestant, anticatarrhal, mucolytic, expectorant
respiratory antiseptic
energizing, immunomodulating
Traditional use
respiratory infections: colds, sinusitis, ear infections, nasopharyngitis, bronchitis
viral diseases
flu, rhino-pharyngitis, laryngitis
bacterial dermatoses, infected acne
chronic fatigue, periods of stress, immune deficiency
Recommendations for use
- Internal use: 1 to 2 drops of essential oil in a little honey, 3 times a day for respiratory diseases.
External use: 2 to 4 drops of essential oil and 3 drops hazelnut virgin oil, on throat, sinuses, thorax and back, on skin problem and around the ears according to diseases.
Also as a vapour or for inhalations, pure or in synergy with other essential oils.
Precautions for use
do not use in the first 3 months of pregnancy
Warning
:
The above information is taken from serious books but should only be considered as preliminary information in a discussion with your doctor or aromatherapist.
The vast majority of essential oils are to be used only diluted in a vegetable oil, honey or other suitable medium respecting the recommended dosages.
When using an essential oil for the first time on the skin, always make a test on the inner sied of the elbow to make sure it does not cause any allergic reaction.
As essential oils are volatile, sensible to UV radiation and inflammable at high temperature, it is imperative to store them in a tightly closed dark glass bottle and at a temperature between 5 °C and 40 °C.
This is a preview of the recently viewed products by the user.
Once the user has seen at least one product this snippet will be visible.
Recently viewed Products