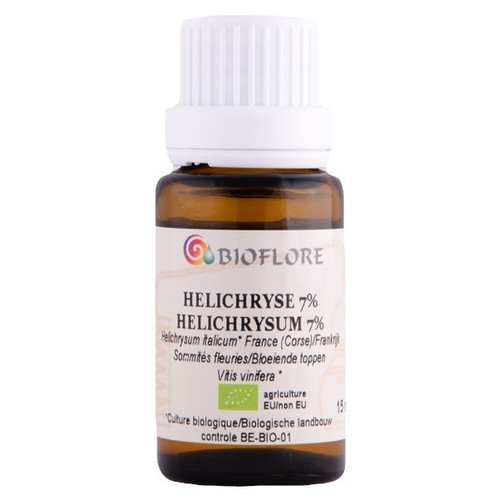 Helichrysum italicum (7% dilution) - organic
1
---
Contenu: 15.0
ML
Référence: BF015
---
Win 100 beez by buying this product
Helichrysum italicum or Curry plant stands out for its amazing properties as blood thinner and anticoagulant which make it remarkably effective in treating haematoma, even ancient or inner ones. Heavy legs, varicose veins, varicosities, rosacea, dermatoses, wounds, diabetes, rhinopathies...are also improved thanks to its anti-inflammatory, antispamodique, antiviral, healing, desclerosing, anti-catarrhal, mucolytic, hypocholesterolemic and liver stimulant activity.
Moreover this oil has an intense psychological effect which cann stimulate intuition, imagination, creativity, help realizing oneself.
Grapeseed oil is interesting because of its very nice touch, even "dry"; it penetrates quickly without leaving a greasy feeling.
Latin name
Helichrysum italicum, Helichrysum angustifolium
Ingredients
first cold pressing vegetable grapeseed-oil* , helichrysum italicum essential oil * (7% dilution) *from certified organic farming
Origin
Corsica and South-Africa
Production
Helichrysum italicum essential oil: essential oil qualified "100% pure and natural"
Characteristics
soft flowery, lively, intense aroma
Properties
very powerful anti-hematoma
anticoagulant, thins blood, increases blood circulation, anti-phlebitic
cholesterol lowering, hypocholesterolemic
cutaneous healing, desclerosing and cutaneous astringent properties
antispasmodic, anti-inflammatory, anti-viral
stimulation of liver cells
intense psychological effect, can stimulate intuition, imagination, creativity and help clarify thoughts; active even at low doses
Traditional use
bruising, external, internal, even ancient haematoma, trauma
edema, blood circulation problems, phlebitis, heavy legs, varicose veins, Raynaud's disease
rosacea, varicosities, erythrose, cyanosis
high blood cholesterol, hypercholesterolaemia
scars, stretch markswounds eczema, psoriasis, acne, rosacea, skin aging, dermatose
hepatocytic deficiency, hepatitis, cirrhosis
arthritis, polyarthritis, rheumatism, carpal tunnel (carpal canal), Dupuytren's disease (Dupuytren's contracture, Dupuytrens)
depression, great fatigue, migraines, neuralgia
Precautions for use
not recommended during pregnancy (except for local and momentary use, but not on loin and abdominal region)
not recommended for young children (except for local and momentary use, and not more than 3 to 4 drops 3 times daily)
avoid use for patients treated with anticoagulant medications
internal use: reserved for the therapist
Warning
:
The above information is taken from serious books but should only be considered as preliminary information in a discussion with your doctor or aromatherapist.
The vast majority of essential oils are to be used only diluted in a vegetable oil, honey or other suitable medium respecting the recommended dosages.
When using an essential oil for the first time on the skin, always make a test on the inner sied of the elbow to make sure it does not cause any allergic reaction.
As essential oils are volatile, sensible to UV radiation and inflammable at high temperature, it is imperative to store them in a tightly closed dark glass bottle and at a temperature between 5 °C and 40 °C.
This is a preview of the recently viewed products by the user.
Once the user has seen at least one product this snippet will be visible.
Recently viewed Products