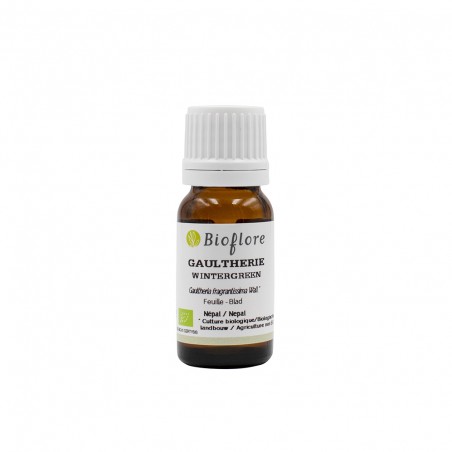 Indian Wintergreen essential oil - organic
1
---
Contenu: 10.0
ML
Référence: BF010
---
Win 45 beez by buying this product
The essential oil of Fragrant Gaultheria, like that of American Wintergreen (Gaultheria procumbens), is antispasmodic, anti-inflammatory, analgesic and anti-rheumatic and thus relieves joint inflammation (arthritis), tendonitis, muscle cramps. It is frequently associated with Eucalyptus citriodora for these uses. Its vasodilating action improves circulation and fights high blood pressure
The characteristic odour of these oils is due to the presence of methyl salicylate which is used in many sports massage products. Psycho-emotionally it can warm body and soul.
Fragrant Wintergreen is native to Asia, namely Nepal where she delights in high altitudes while American wintergreen is native to North America. The essential oils of the two species are clearly biochemical interchangeable because they contain both from 98 to 99% of the ester methyl salicylate. Gaultheria fragrantissima however contains traces of other esters and aldehydes which make it particularly fragrant. Bioflore being more reserved about the cultivation and conservation methods of Gaultheria procumbens, chose the fragrant sort in organic quality.
Latin name
Gaultheria fragrantissima Wall
Origin
Nepal
Production
essential oil qualified "100% pure and natural"
Properties
Analgesic
Anti-inflammatory
Antirheumatic
Antitussive
Liver stimulant
Antispasmodic
Traditional use
Tendonitis
Rheumatism
Arthritis
Osteoarthritis
Muscle spasms
Cramps
Liver fatigue
Recommendations for use
External use: 2 drops of essential oil per 10 ml of vegetable oil.
Precautions for use
Do not use in the first 3 months of pregnancy
Not recommended for children under six years
Skin irritation (dermocaustic) possible if used pure
Toxic in high doses
Warning
:
The above information is taken from serious books but should only be considered as preliminary information in a discussion with your doctor or aromatherapist.
The vast majority of essential oils are to be used only diluted in a vegetable oil, honey or other suitable medium respecting the recommended dosages.
When using an essential oil for the first time on the skin, always make a test on the inner sied of the elbow to make sure it does not cause any allergic reaction.
As essential oils are volatile, sensible to UV radiation and inflammable at high temperature, it is imperative to store them in a tightly closed dark glass bottle and at a temperature between 5 °C and 40 °C.
This is a preview of the recently viewed products by the user.
Once the user has seen at least one product this snippet will be visible.
Recently viewed Products