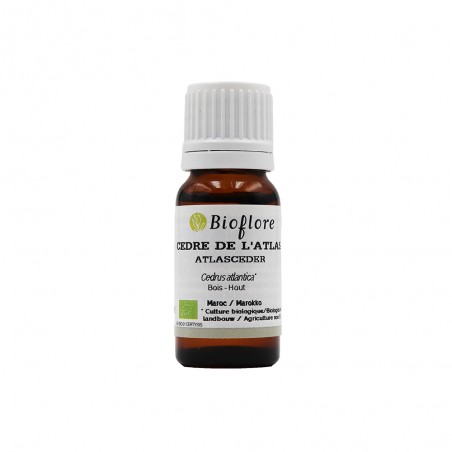 Atlas Cedar essential oil - organic
1
---
Contenu: 10.0
ML
Référence: BF005
---
Win 32 beez by buying this product
The major qualities of Atlas cedar essential oil are its lipolytic, lymphatic and venous decongestant, arterial regenerating, lymphatic system and arterial circulation toning properties. They can effectively fight against water retention, oily skin, dandruff, hair loss. Its anti-inflammatory, anti-viral, anti-bacterial and skinhealing properties indicate it, possibly in synergy, to cure dermatoses.
In diffusion, it exerts a softening action on the respiratory tracts. Mites and mosquitoes do not like the smell of cedar!
At the psycho-emotional level, Atlas cedar essential oil promotes meditative and to elevation and spirituality related states.
Latin name
Cedrus atlantica
Origin
Morocco
Production
essential oil qualified "100% pure and natural"
Characteristics
Woody aroma, sweet at first touch but then growing.
Some sources speak of the neurotoxic potential of cedar but this is a confusion that comes from the fact that a common name of Thuya occidentalis oil, which contains thujone and is neurotoxic (and forbidden to sale in France), is "Cedarwood". It is not the cedar of the Atlas in this case.
Properties
Lymphatic tonic
Diuretic
Lipolytic (fat burning)
Epulotic, astringent
Scalp tonic, anti-dandruff
Anti-moth, insectifuge
Traditional use
Cellulite
Wound, scar
Oily skin and hair, dandruff, hair loss
Dermatosis (acne,...)
Heavy legs and varicose veins
Moths and mosquitoes
Recommendations for use
External use: 2 to 5 drops of essential oil per 10 ml of vegetable oil.
Cellulite, water retention, circulatory disorder: massage
Scars, dermatoses, hemorrhoids: local application
Latent depression, nervousness, difficult sleep, stress, overwork, nervous tension: appllcation on the plantar arches, or on the wrist and inhale.
Atmospheric diffusion: the presence of ketones calls to remain vigilant (possible headaches).
Internal use: only by order of a specialized therapist, rather in case of atherosclerosis for the potential of arterial regeneration.
Precautions for use
Do not use in the first 3 months of pregnancy
Not recommended for children under 2 years
>
Skin irritation (dermocaustic) possible if used pure
Warning
:
The above information is taken from serious books but should only be considered as preliminary information in a discussion with your doctor or aromatherapist.
The vast majority of essential oils are to be used only diluted in a vegetable oil, honey or other suitable medium respecting the recommended dosages.
When using an essential oil for the first time on the skin, always make a test on the inner sied of the elbow to make sure it does not cause any allergic reaction.
As essential oils are volatile, sensible to UV radiation and inflammable at high temperature, it is imperative to store them in a tightly closed dark glass bottle and at a temperature between 5 °C and 40 °C.
This is a preview of the recently viewed products by the user.
Once the user has seen at least one product this snippet will be visible.
Recently viewed Products