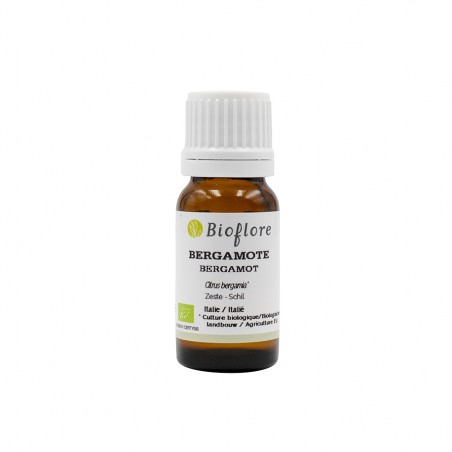 Bioflore
1
Bergamot essential oil - organic
---
Fabriquant: Bioflore
Contenu: 10.0
ML
Référence: BF002
---
Win 67 beez by buying this product
Bergamot essential oil is very well known for its subtle and very pleasant perfume and its skin regenerating properties. It is also a classic flavouring food and, digestive, carminative, laxative, antispasmodic it promotes a good digestion.
Its antiseptic, anti-infective and wound healing properties make it useful for the care of skin diseases (acne, sores,) as well as for urinary infections.
As a vapour its odour is very fine and unanimously appreciated and its aseptic properties are perfect for purifying the air. It promotes nervous balance, harmonious coexistence of mental and affective, fights stress and depression, is particularly appreciated by people with insomnia or anxious, restless temperament.
This "essential oil" is obtained by cold expression (and not by steam distillation) of the outer part of the bark of the fruit and is therefore what some call an essence. The biological quality is absolutely essential for zest essences of rutaceous, because otherwise almost pure pesticide is used.
Latin name
Citrus bergamia
Origin
Italia
Production
essential oil qualified "100% pure and natural"
Properties
calming and sedating the central nervous system
variably antibacterial, purifying, antiseptic, sanitizes the air
regenerating skin
antispasmodic
carminative, digestive, laxative
Traditional use
Anxiety, stress, depression
Difficulty falling asleep in children
Acne, eczema, psoriasis, seborrhea, vitiligo, depigmentation of the skin
Loss of appetite, difficult digestion, dyspepsia, colitis
Leucorrhea, cystitis
Constipation
Recommendations for use
Internal use: 2 drops of essential oil in virgin olive oil, 3 times a day,for digestive and nervous problems, to repeat when necessary
External use: 3 to 4 drops of essential oil on the arch of the foot, the inner side of the wrists, the solar plexus or at both sides of the spine for diseases of the nervous system.
Precautions for use
do not use in the first 3 months of pregnancy
skin irritation (dermocaustic) possible if used pure
risk of photosensitivity (Do not apply before sun exposure)
Warning
:
The above information is taken from serious books but should only be considered as preliminary information in a discussion with your doctor or aromatherapist.
The vast majority of essential oils are to be used only diluted in a vegetable oil, honey or other suitable medium respecting the recommended dosages.
When using an essential oil for the first time on the skin, always make a test on the inner sied of the elbow to make sure it does not cause any allergic reaction.
As essential oils are volatile, sensible to UV radiation and inflammable at high temperature, it is imperative to store them in a tightly closed dark glass bottle and at a temperature between 5 °C and 40 °C.
This is a preview of the recently viewed products by the user.
Once the user has seen at least one product this snippet will be visible.
Recently viewed Products