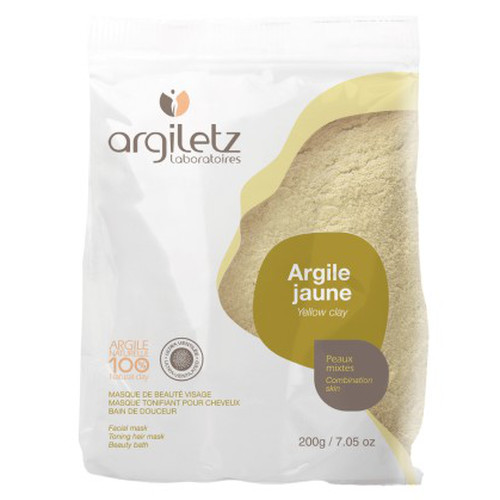 Yellow Clay - Ultra-ventilated
1
---
Contenu: 200.0
G
Référence: AZ008
---
Win 48 beez by buying this product
Recommended for combination skin.
This yellow illite clay has powerful soothing properties. It is very close in mineral composition to green clay and acts quickly to leave you feeling calm.
Exfoliating and purifying, it works wonders on all skin types and its fine texture is soft and smooth against your skin.
The ultra-ventilated yellow clay, very close in mineral composition to green clay is an ultra-fine powder (grain size of about 20 microns) rich in minerals and trace elements.
ATTENTION. The Argiletz product's packaging does unfortunately not always correctly resist to shocks during shipping. Thus, it can happen that some clay is released from its container and contaminates its bag, box or some other products in the shipping box. We do our best, when packing your order, to minimize this risk but can no longer assume responsibility in case of leakage during shipping. In order not to deprive our customers of these quality clays we continue selling them on line but do not take responsibility for the damage resulting from the weakness of the original packaging.
Ingredients
Natural Illite compound, 100% yellow clay, rich in minerals and trace elements.
Production
Raw sun-dried illite yellow clay.
Characteristics
- Quality satisfying the levels of microbiological purity thresholds required by European Pharmacopoeia V.2.1.8.
- 100% natural.
- Sun-dried.
- No artificial preservatives.
- No irradiation.
- Not tested on animals.
Recommendations for use
- Preparation of clay paste: in a small glass or wooden dish, add 2 to 3 dessert spoons of yellow clay to a little mineral or floral water. Leave to stand for a few minutes. Mix well with a wooden spatula to obtain a smooth, thick paste.
- Face mask:apply a 2 to 3 mm thick layer of clay paste, even around the eyes. Leave on for 10 minutes. Do not allow the clay to dry. Rinse off with lukewarm water and dry thoroughly. Apply a moisturising
Crème/Fluide
.
- Hair mask: spread clay paste evenly over the scalp. Leave on for 10 to 15 minutes. Rinse, then, use your regular shampoo.
- For washing skin or hair (for medium hair) mix 3-6 tablespoons filled to the brim with clay paste in 6-12 tablespoons hot water to a thick liquid paste. Let swell the clay paste a few moments. Then spread the mixture on the moistened skin or in the wet hair and massage gently. Let it work for a short time and then rinse thoroughly with warm water. Finally, dry and care skin or hair as usual.
Huiles essentielles
, or for dry hair a few drops of
Huiles végétales
, can be added to the paste.
- Bath: dilute the 200g yellow clay in the bath water. A few drops of essential oil may be added if desired. Relax for 20 minutes, then rinse with clear water. Your skin will feel wonderfully supple and soft. For dry skin use an hydrating
Crème/fluide
and/or
BAOBAB Leg Lotion - Demeter
.
Precautions for use
- Keep in a dry area.
- Keep away from freezing.
- Beware of clay dust which is always present even before opening the package.
This is a preview of the recently viewed products by the user.
Once the user has seen at least one product this snippet will be visible.
Recently viewed Products